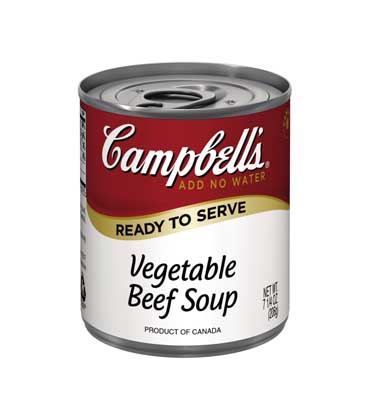 Nutrition Facts
Amount Per Serving
% Daily Value
* Percent Daily Values are based on a 2,000 calorie diet.
Nutrition Facts are based on our current data. However, because the data may change from time to time, this information may not always be identical to the Nutrition Facts table found on the labels of products.
Formula effective date: 09/20/2018
Information is true and accurate as of: 03/16/2015
Ingredients
INGREDIENTS: BEEF STOCK, WATER, POTATOES, CARROTS, SEASONED BEEF (CONTAINS UP TO 10% OF A SOLUTION OF WATER, SALT, SODIUM PHOSPHATE), CONTAINS LESS THAN 2% OF: TOASTED BARLEY, PEAS, BEEF, TOMATO PUREE (WATER, TOMATO PASTE), SALT, POTATO STARCH, CELERY, GREEN BEANS, YEAST EXTRACT, HYDROLYZED PROTEIN (SOY, CORN, WHEAT), HYDROLYZED YEAST PROTEIN, MONOSODIUM GLUTAMATE, CARAMEL COLOR, DEHYDRATED ONIONS, HYDROLYZED WHEAT GLUTEN, DEXTROSE, FLAVORING, CITRIC ACID, CELERY EXTRACT.
Allergens
Special Dietary Needs
100 calories or less per serving; 15 grams total carbohydrates or less per serving; 250 calories or less per serving; 9 grams total carbohydrates or less per serving; Good source of Vitamin A; Low Fat; Serving of Vegetables; Sodium 481 - 800 mgs.
A flavorful beef stock loaded with hearty potatoes, carrots, seasoned beef, barley, peas and green beans.
Features And Benefits
Ready-to-eat
Convenient, easy-to-open single serve can
Preparation
MICROWAVE: Empty contents into microwave-safe bowl. Cover; microwave on high 1 1/2 minutes or until hot. Stir before serving. STOVE: Empty contents into small saucepan. Heat slowly until hot, stirring occasionally.
Handling
PROMPTLY REFRIGERATE ANY UNUSED PORTION IN A SEPARATE CONTAINER. RECOMMEND USE BY DATE ON CAN END. STORE UNOPENED CAN AT ROOM TEMPERATURE. FOR VENDING MACHINES, DO NOT HEAT UNOPENED CAN ABOVE 155 DEGREES F. DO NOT HEAT UNOPENED CAN FOR MORE THAN 3 DAYS. EXCESSINVE
Storage
Shelf Life: 2 YEARS; USE BY DATE ON THE TOP EVERY CAN
Storage Temperature: 70 °F
Serving Ideas
Campbell's(R) Ready to Serve Vegetable Beef Soup is a great offering for vending machines, convenience stores, snack shops and more. They are quick and delicious when on the run, and are perfect as a first course, snack or part of a light meal.
More
Ready-to-eat
Convenient, easy-to-open single serve can
Packaging Details
Pack & Size:
24/7.25 OZ. (206 G)
Case Size:
16.25 INx 10.875INx 3.375IN
(L x W x H)
Other Information
For more information on our products, contact your distributor or call 1-800-879-7687.
Supporting Materials
To find out more about our merchandising and point of sale options, contact your Campbell's representative or call (800) TRY-SOUP (879-7687) and ask about how your operation can benefit from our support.