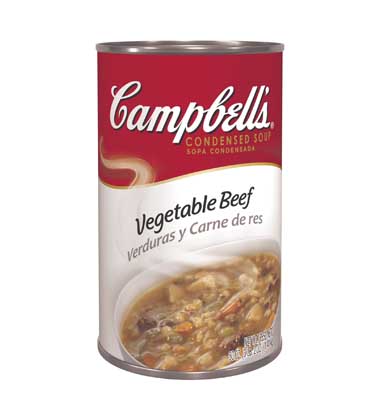 Nutrition Facts
Serving Size
1/2 CUP (120 ML) CONDENSED
Amount Per Serving
% Daily Value
* Percent Daily Values are based on a 2,000 calorie diet.
Nutrition Facts are based on our current data. However, because the data may change from time to time, this information may not always be identical to the Nutrition Facts table found on the labels of products.
Formula effective date: 09/20/2018
Information is true and accurate as of: 10/01/2015
Ingredients
INGREDIENTS: BEEF STOCK, POTATOES, CARROTS, SEASONED BEEF (CONTAINS UP TO 10% OF A SOLUTION OF WATER, SALT, SODIUM PHOSPHATE), TOASTED BARLEY, PEAS, BEEF, GREEN BEANS, CONTAINS LESS THAN 2% OF: CELERY, SALT, MODIFIED FOOD STARCH, WHEAT FLOUR, YEAST EXTRACT, MONOSODIUM GLUTAMATE, HIGH FRUCTOSE CORN SYRUP, DEHYDRATED ONIONS, TOMATO PASTE, CARAMEL COLOR, HYDROLYZED SOY PROTEIN, DEHYDRATED GARLIC, FLAVORING, HYDROLYZED WHEAT GLUTEN, CELERY EXTRACT, GARLIC EXTRACT.
Allergens
Special Dietary Needs
100 calories or less per serving; 15 grams total carbohydrates or less per serving; 250 calories or less per serving; Good source of Fiber; Good source of Vitamin A; Low Fat; Serving of Vegetables; Sodium 481 - 800 mgs.; Zero Trans Fats
A savory beef stock made with potatoes, carrots, seasoned beef, barley, peas and green beans.
Features And Benefits
Easy to prepare - just reconstitute with water
Versatile - use as-is, amped up or as an ingredient
Great flavors patrons love
Preparation
In a 4 quart pot, combine one can of soup and one can of water. Simmer over low heat, stirring occasionally.
Handling
PROMPTLY REFRIGERATE ANY UNUSED PORTION IN A SEPARATE CONTAINER. RECOMMEND USE BY DATE ON CAN END. STORE UNOPENED CAN AT ROOM TEMPERATURE.
Storage
Shelf Life: 730 Days
Storage Temperature: 70 °F
Serving Ideas
• Serve as an appetizer or as a meal

• Excellent for use on soup and salad bars

• Ideal nutritional profile for Healthcare and Schools
More
Easy to prepare - just reconstitute with water
Versatile - use as-is, amped up or as an ingredient
Great flavors patrons love
Packaging Details
Case Size:
17 INx 12.875INx 7.25IN
(L x W x H)
Other Information
For a list of products that can be used in Child Nutrition Programs and their Food Component Contributions, please visit www.campbellfoodservice.com/mealcontributions.
For more information on our products, contact your distributor or call 1-800-879-7687.
Supporting Materials
To find out more about our merchandising and point of sale options, contact your Campbell's representative or call (800) TRY-SOUP (879-7687) and ask about how your operation can benefit from our support.