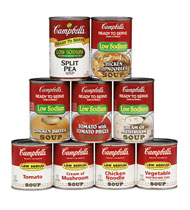 Nutrition Facts
Amount Per Serving
% Daily Value
* Percent Daily Values are based on a 2,000 calorie diet.
Nutrition Facts are based on our current data. However, because the data may change from time to time, this information may not always be identical to the Nutrition Facts table found on the labels of products.
Formula effective date: 09/20/2018
Information is true and accurate as of: 10/03/2018
Ingredients
INGREDIENTS: TOMATO PUREE (WATER, TOMATO PASTE), WATER, SUGAR, WHEAT FLOUR, CREAM (MILK), CONTAINS LESS THAN 2% OF: BLEACHED ENRICHED FLOUR (WHEAT FLOUR, WHEAT STARCH, NIACIN, FERROUS SULFATE, THIAMINE MONONITRATE, RIBOFLAVIN, FOLIC ACID), CITRIC ACID, FLAVORING, ASCORBIC ACID (VITAMIN C), CELERY EXTRACT, GARLIC OIL.
Allergens
MILK
WHEAT
Special Dietary Needs
250 calories or less per serving; Good source of Fiber; Good source of Vitamin A; Low Fat; Lycopene; Serving of Vegetables; Sodium 0 - 140 mgs.; Vegetarian; Zero Trans Fats
A rich tomato soup made with real cream and butter.
Features And Benefits
Ready-to-eat
Convenient, easy-to-open single serve can
Low sodium
Preparation
MICROWAVE: Empty contents into microwave-safe bowl. Cover; microwave on high 1 1/2 minutes or until hot. Stir before serving. STOVE: Empty contents into small saucepan. Heat slowly until hot, stirring occasionally.
Handling
PROMPTLY REFRIGERATE ANY UNUSED PORTION IN A SEPARATE CONTAINER. RECOMMEND USE BY DATE ON CAN END. STORE UNOPENED CAN AT ROOM TEMPERATURE. FOR VENDING MACHINES, DO NOT HEAT UNOPENED CAN ABOVE 155 DEGREES F. DO NOT HEAT UNOPENED CAN FOR MORE THAN 3 DAYS. EXCESSIVE HEATING CREATES INTERNAL PRESSURE.
Storage
Shelf Life: 2 YEARS; USE BY DATE ON THE TOP OF EVERY CAN
Storage Temperature: Room Temperature °F
Serving Ideas
Campbell's(R) Ready-to-Serve Low Sodium Soups are great for controlled portion, low sodium diets. They are perfect as a first course, snack or part of a light meal.
More
Ready-to-eat
Convenient, easy-to-open single serve can
Low sodium
Packaging Details
Pack & Size:
24/7.25 OZ. (206 G)
Case Size:
16.25 INx 10.875INx 3.375IN
(L x W x H)
Other Information
For a list of products that can be used in Child Nutrition Programs and their Food Component Contributions, please visit www.campbellfoodservice.com/mealcontributions.
For more information on our products, contact your distributor or call 1-800-879-7687.
Supporting Materials
To find out more about our merchandising and point of sale options, contact your Campbell's representative or call (800) TRY-SOUP (879-7687) and ask about how your operation can benefit from our support.