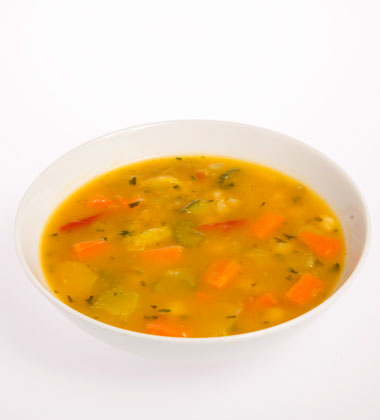 Nutrition Facts
Serving Size
1/2 CUP (120 ML)
Amount Per Serving
% Daily Value
* Percent Daily Values are based on a 2,000 calorie diet.
Nutrition Facts are based on our current data. However, because the data may change from time to time, this information may not always be identical to the Nutrition Facts table found on the labels of products.
Formula effective date: 06/13/2018
Information is true and accurate as of: 06/13/2018
Ingredients
INGREDIENTS: WATER, CHICKPEAS, DICED TOMATOES IN TOMATO JUICE, CARROTS, ONIONS, ZUCCHINI, BUTTERNUT SQUASH, LENTILS, CABBAGE, CELERY, MODIFIED FOOD STARCH, CARROT JUICE CONCENTRATE, CONTAINS LESS THAN 2% OF: DEHYDRATED POTATOES, SUGAR, GARLIC, SALT, VEGETABLES (CELERY, ONIONS, CARROTS), HYDROLYZED CORN PROTEIN, LACTOSE (MILK), SPICE (CONTAINS CELERY), EXTRA VIRGIN OLIVE OIL, CONCENTRATED LEMON JUICE, MALTODEXTRIN, FLAVORING, HYDROLYZED SOY PROTEIN, CORN OIL, CORNSTARCH, TORULA YEAST, YEAST EXTRACT, DEHYDRATED ONIONS, CITRIC ACID, TURMERIC EXTRACT, AUTOLYZED YEAST, DISODIUM GUANYLATE, DISODIUM INOSINATE, HYDROLYZED SOY AND WHEAT PROTEIN, SOY FLOUR, TURMERIC FOR COLOR.
Allergens
MILK
SOY
WHEAT
Special Dietary Needs
Vegetarian
A savory vegetable broth bursting with chickpeas, tomatoes, zucchini, butternut squash and lentils, seasoned with garlic and lemon.
Features And Benefits
Yields approximately 384 fluid oz Available in a range of authentic flavors that make it simple to deliver customer favorites every day
Preparation
THIS PRODUCT HAS NOT BEEN FULLY COOKED BEFORE FREEZING. CAREFULLY FOLLOW THE RECOMMENDED COOKING TIMES AND TEMPERATURES TO ENSURE COMPLETE COOKING.

Cooking Directions:

This product may be tempered up to 48 hours in a 40 degrees F. refrigerator prior to cooking.

Peel back plastic film starting from one edge. Keep film to view cooking directions.

1. If soup is frozen, run knife around soup blocks in trays to loosen. Empty the 2 trays of soup into large saucepot.

2. Fill both of the trays with water (64 fl. oz. in total). Add to saucepot.

3. Heat to a boil over medium-high heat, stirring frequently. Reduce heat to low. Boil gently, stirring frequently to break up any frozen pieces, until temperature reaches 190 degrees F.

4. Transfer to holding kettle or steam table.
Handling
DO NOT USE IF PUNCTURED OR TORN. KEEP FROZEN UNTIL READY TO USE. DO NOT REFREEZE.
Storage
Shelf Life: 21 MONTHS
Storage Temperature: 0 °F
Serving Ideas
Enjoy as is or develop intp Moroccan Vegetable Samosas or appetizer cups.
More
Yields approximately 384 fluid oz Available in a range of authentic flavors that make it simple to deliver customer favorites every day
Packaging Details
Pack & Size:
3/4 LB TRAYS
Case Size:
17.832 INx 11INx 3.625IN
(L x W x H)
Other Information
For more information on our products, contact your distributor or call 1-800-879-7687.
Supporting Materials
To find out more about our merchandising and point of sale options, contact your Campbell's representative or call (800) TRY-SOUP (879-7687) and ask about how your operation can benefit from our support.