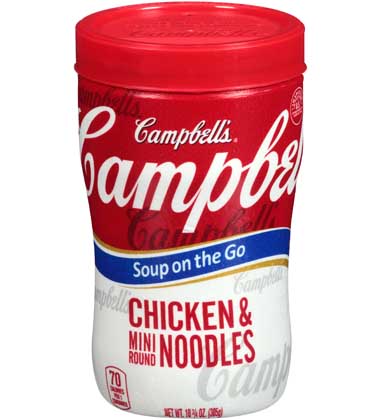 Nutrition Facts
Amount Per Serving
% Daily Value
* Percent Daily Values are based on a 2,000 calorie diet.
Nutrition Facts are based on our current data. However, because the data may change from time to time, this information may not always be identical to the Nutrition Facts table found on the labels of products.
Formula effective date: 09/20/2018
Information is true and accurate as of: 07/17/2013
Ingredients
INGREDIENTS: CHICKEN STOCK, CARROTS, ENRICHED EGG NOODLE (WHEAT FLOUR, EGG WHITE, EGG, NIACIN, FERROUS SULFATE, THIAMINE MONONITRATE, RIBOFLAVIN, FOLIC ACID), CONTAINS LESS THAN 2% OF: CHICKEN MEAT, CELERY, SALT, CHICKEN FAT, MONOSODIUM GLUTAMATE, XANTHAN GUM, HIGH FRUCTOSE CORN SYRUP, DEHYDRATED ONIONS, FLAVORING, MODIFIED FOOD STARCH, DEHYDRATED CHICKEN BROTH, LOCUST BEAN GUM, SUGAR, SPICE, DISODIUM GUANYLATE, DISODIUM INOSINATE, BETA CAROTENE FOR COLOR, DEHYDRATED GARLIC, SODIUM PHOSPHATE, SOY PROTEIN ISOLATE, YEAST EXTRACT, CELERY EXTRACT, DEHYDRATED CHICKEN, ONION OIL.
Allergens
EGG
SOY
WHEAT
Special Dietary Needs
100 calories or less per serving; 15 grams total carbohydrates or less per serving; 250 calories or less per serving; Good source of Vitamin A; Low Fat; Portable Nutrition; Zero Trans Fats
Features And Benefits
Campbell's(R) Soup on the Go(TM) provides convenience, portability, wholesome quality and variety.
Preparation
Microwave uncovered on HIGH for 1 min., replace cap and sip.
Handling
DO NOT REUSE OR REHEAT CONTAINER. REFRIGERATE ANY UNUSED PORTION.
Storage
Shelf Life: 365 DAYS
Storage Temperature: 70 °F
Serving Ideas
Enjoy as an on the go snack or light meal.
More
Campbell's(R) Soup on the Go(TM) provides convenience, portability, wholesome quality and variety.
Packaging Details
Pack & Size:
8/10.75OZ (305 G)
Case Size:
11.25 INx 5.688INx 4.75IN
(L x W x H)
Other Information
For a list of products that can be used in Child Nutrition Programs and their Food Component Contributions, please visit www.campbellfoodservice.com/mealcontributions.
For more information on our products, contact your distributor or call 1-800-879-7687.
Supporting Materials
To find out more about our merchandising and point of sale options, contact your Campbell's representative or call (800) TRY-SOUP (879-7687) and ask about how your operation can benefit from our support.