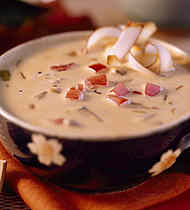 Nutrition Facts
Amount Per Serving
% Daily Value
* Percent Daily Values are based on a 2,000 calorie diet.
Nutrition Facts are based on our current data. However, because the data may change from time to time, this information may not always be identical to the Nutrition Facts table found on the labels of products.
Formula effective date: 02/05/2009
Ingredients
Cream, vegetable stock (water, concentrated juices of celeriac, onion, carrot, garlic, mushroom), butternut squash, mushrooms, diced tomatoes in juice, onions, powdered coconut milk (coconut milk, maltodextrin, milk proteins), white rice, soy sauce (water, wheat, soybeans, salt), leeks, carrots, lime juice from concentrate, soybean oil, shallots, Contains 2% or less of: shiitake mushrooms, chili sauce (chili, garlic, salt, vinegar, sulfites), sugar, garlic, water, imitation coconut flavor, modified food starch, basil, salt, yeast extract, cilantro, soy lecithin, nisin preparation, spices, xanthan gum, guar gum, ginger puree, natural flavors.
Contains: Milk, Wheat, Soy, Coconut
Special Dietary Needs
15 grams total carbohydrates or less per serving; 250 calories or less per serving; Good source of Vitamin A; Sodium 481 - 800 mgs.; Vegetarian; Vegetarian Lacto; Zero Trans Fats
Inspired by the traditional Tom Kha Jay, this delicious soup is filled with diced butternut squash, tomatoes, rice, mushrooms, and carrots, simmered in a vegetable stock and coconut milk. Flavored with aromatic spices and lemon grass, Kaffir lime leaves, lime juice, and chiles, this vegetarian soup is sure to please even non-vegetarian diners!
Features And Benefits
Bold and vibrant, Asian cuisine continues to be one of the hottest culinary trends
Preparation
1. ADD SOUP CONCENTRATE & 1 1/2 QUARTS OF WATER TO HEAVY DUTY POT.
2. BRING SOUP TO A LOW BOIL (200º-210ºF.) AND HOLD FOR 10 MINUTES OR UNTIL THICKENED. STIR OFTEN. REDUCE HEAT TO 160ºF. FOR SERVING.
Handling
Do not refreeze. Do not store in pouch after heating. Promptly refrigerate any unused portion. Do not use if punctured or torn. Keep frozen until ready to use.
Storage
Shelf Life: 21 months
Storage Temperature: 0 °F
Serving Ideas
Stir in soaked rice noodles and top with seared scallops and sliced Asian basil or kaffir leaves.
More
Bold and vibrant, Asian cuisine continues to be one of the hottest culinary trends
Packaging Details
Pack & Size:
4 - 3.0 LB Bag
Case Size:
12.5 INx 6.375INx 6.5IN
(L x W x H)
Other Information
For a list of products that can be used in Child Nutrition Programs and their Food Component Contributions, please visit www.campbellfoodservice.com/mealcontributions.
For more information on our products, contact your distributor or call 1-800-879-7687.
Supporting Materials
To find out more about our merchandising and point of sale options, contact your Campbell's representative or call (800) TRY-SOUP (879-7687) and ask about how your operation can benefit from our support.