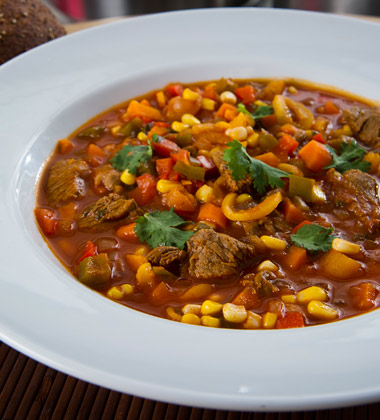 Nutrition Facts
Amount Per Serving
% Daily Value
Beef is the center of this hearty stew enhanced with smoked paprika, garlic, V8, and filled with corn, apricots, cilantro and vinegar that provide a bit of mystery.
Recipe Yields:
NOTE: Use your professional judgement when resizing recipes. Seasoning, cooking times, etc, may require adjustment.
estimate your profit
Enter the cost of the soup and any garnishing costs to get the cost per bowl of soup.
Enter the selling price per bowl and your profit for each bowl is calculated based on Step 1.
Enter the number of bowls you typically serve each day and how many days per week you are open (or serve this soup). Profits will be calculated using your numbers from Steps 1 and 2.
| | | |
| --- | --- | --- |
| Ingredients | Weight | Measure |
1. Heat oil in a large rondo over medium-high heat. Add beef and sauté until well browned on all sides, about 6 minutes. Stir in paprika and continue to cook 2 minutes, stirring often.
2. Add onions and continue cooking for 5 minutes. Stir in peppers, carrots and garlic. Continue cooking for 5 minutes.

3. Stir in V8® 100% Vegetable Juice and Swanson® Beef Broth. Bring to a boil. Reduce heat and simmer on low for 60-75 minutes, or until beef is tender. Add water as necessary if mixture gets too thick.
4. Add corn and apricots. Continue cooking 15-20 minutes.

5. Mix in cilantro and vinegar.

CCP: Heat to an internal temperature of 165°F or higher for 15 seconds.

CCP: Hold hot at 140°F or higher for service.
6. To Serve: Using an 8 oz. ladle, portion1 cup of stew into a bowl. Drizzle with 1/2 teaspoon chili oil over top of soup and sprinkle with cilantro, as needed, to garnish.
Recipe Tip
This recipe meets Partnership for a Healthier criteria for overall cafeteria and general menu offerings (a la carte entrees).