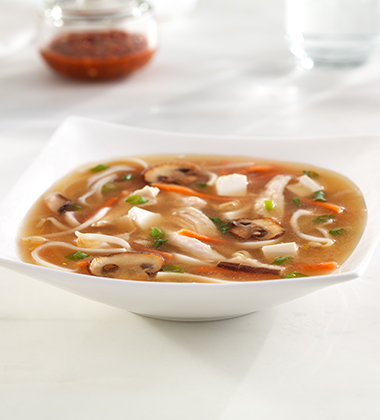 Nutrition Facts
Serving Size
1 CUP (8 OZ LADLE)
Amount Per Serving
% Daily Value
Rich chicken broth made with Campbells® Signature Low Sodium Chicken  Culinary Foundation is enhanced with ginger, soy sauce and kimchi. Then, finished with sauteed mushrooms and shredded chicken to provide a flavorful fusion soup.  Delicious Asian flavor with less than 200 mg sodium per serving.
Recipe Yields:
NOTE: Use your professional judgement when resizing recipes. Seasoning, cooking times, etc, may require adjustment.
estimate your profit
Enter the cost of the soup and any garnishing costs to get the cost per bowl of soup.
Enter the selling price per bowl and your profit for each bowl is calculated based on Step 1.
Enter the number of bowls you typically serve each day and how many days per week you are open (or serve this soup). Profits will be calculated using your numbers from Steps 1 and 2.
| | | |
| --- | --- | --- |
| Ingredients | Weight | Measure |
dried shiitake mushroom

8

oz.

1 1/2

cups

water

3

qt.

vegetable oil

2

tbsp.

garlic

0 1/4

cups

brown mushroom

1.5

lb.

9 1/2

cups

water

3

qt.

ginger root

0.5

oz.

2

tbsp.

reduced sodium soy sauce

1

tbsp.

ground red pepper

0 1/4

tsp.

cooked chicken

1.5

lb.

cooked Ramen noodles

1.5

lb.

6

cups

fresh bean sprouts

8

oz.

2

cups

carrot

8

oz.

2

cups

green onion

7

oz.

2

cups

rice wine vinegar

0 1/4

cups

honey

3

tbsp.

sesame oil

2

tbsp.
1. In a bowl, place mushrooms and pour hot water over. Toss well and let stand until softened and water cools. Lift mushrooms out of liquid with a slotted spoon into a strainer so excess liquid drips back into bowl. Strain excess liquids through a fine mesh strainer and discard debris. Reserve 3 cups of liquid. Chop softened mushrooms coarsely and reserve.
2. In a kettle, heat oil to sauté vegetables:
Add garlic and sauté 1 minute.
 
Stir in brown mushrooms and sauté 2 minutes.
 
3. Add Campbells® Signature Low Sodium Chicken Culinary Foundation, water, ginger, soy sauce and ground red pepper to same kettle. Bring to a boil, reduce heat and simmer 15 minutes.
4. Stir in chicken, noodles, bean sprouts and carrots along with reserved mushrooms and 3 cups of reserved liquid. Bring to a simmer.

CCP: Ensure final cook step reaches a minimun internal temperature of 165°F for one minute.

 
5. Just before serving stir in green onions, vinegar, honey and sesame oil. 

CCP- Hold hot at 140°F or higher for service.

6. Use an 8 oz ladle to portion each serving of soup (1 cup).  Serve immediately.