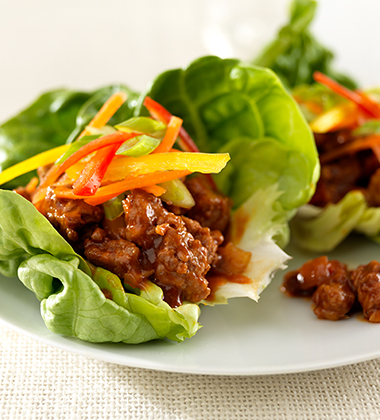 Nutrition Facts
Amount Per Serving
% Daily Value
Child Nutritional Content
mma: 3.0oz
grain: 0.0oz
totalVegetable: 1.625c
darkGreen: 0.0c
redOrange: 1.25c
legumes: 0.0c
starchy: 0.0c
other: 0.375c
additional: 0.0c
fruit: 0.0c
milk: 0.0c
Crisp lettuce cups with ground turkey sautéed with hoisin sauce, ginger, red and yellow bell peppers, and Campbell's® Healthy Request® tomato soup, then topped with crunchy carrots and green onion.
Recipe Yields:
NOTE: Use your professional judgement when resizing recipes. Seasoning, cooking times, etc, may require adjustment.
estimate your profit
Enter the cost of the soup and any garnishing costs to get the cost per bowl of soup.
Enter the selling price per bowl and your profit for each bowl is calculated based on Step 1.
Enter the number of bowls you typically serve each day and how many days per week you are open (or serve this soup). Profits will be calculated using your numbers from Steps 1 and 2.
| | | |
| --- | --- | --- |
| Ingredients | Weight | Measure |
sesame oil

5

tbsp.

garlic

4

oz.

0 3/4

cups

onion

23

oz.

6

ea.

yellow bell pepper

12.5

oz.

3

ea.

red bell pepper

13

oz.

3

ea.

ginger root

1

pcs.

ground turkey

6

lb.

hoisin sauce

0 1/4

cups

reduced sodium soy sauce

1

cups

Bibb lettuce

13

oz.

24

ea.

carrot

26

oz.

12

ea.

green onion

5

oz.

12

ea.
1. Heat oil in a large saucepan. Add onions, half of red and yellow peppers, garlic, and ginger. Cook until soft, stirring occasionally.
2. Add ground turkey, Campbell's® Healthy Request® Condensed Tomato Soup ,hoisin and soy sauce to onion mixture and stir. Bring to simmer. Cook until turkey is completely cooked.

CCP: Heat to a minimum internal temperature of 165°F for 1 minute.

CCP: Hold for hot service at 140°F or higher until needed.
3. To Serve: Using a # 8 scoop, portion 1/2 cup turkey mixture into each lettuce leaf. Top with remaining red and yellow bell pepper mix, shredded carrots and scallions.
Recipe Tip
Meal contributions: 3 oz meat/meat alternate, 1-5/8 cups TOTAL vegetables (1-1/4 cups red/orange, 3/8 cup other)