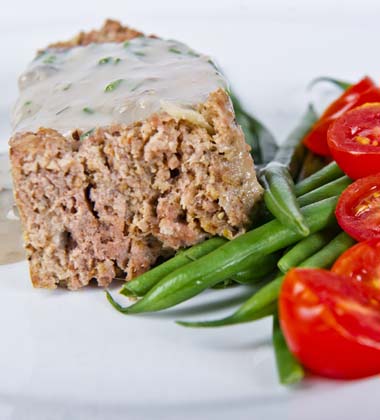 Nutrition Facts
Amount Per Serving
% Daily Value
Try our Balsamic Glazed Turkey Meatloaf made with Campbell's® Healthy Request® Condensed Cream of Chicken Soup. Combined with onion, balsamic vinegar, ground turkey, thyme and chives, this meatloaf will add variety to any menu.
Recipe Yields:
NOTE: Use your professional judgement when resizing recipes. Seasoning, cooking times, etc, may require adjustment.
estimate your profit
Enter the cost of the soup and any garnishing costs to get the cost per bowl of soup.
Enter the selling price per bowl and your profit for each bowl is calculated based on Step 1.
Enter the number of bowls you typically serve each day and how many days per week you are open (or serve this soup). Profits will be calculated using your numbers from Steps 1 and 2.
| | | |
| --- | --- | --- |
| Ingredients | Weight | Measure |
1. In a skillet, heat oil over medium-high heat; add onion and sauté 7-8 minutes, until they begin to take on a golden color.

2. Stir in vinegar, garlic and thyme and cook an additional 2 minutes, stirring often. Remove from heat and cool to room temperature.
3. Place turkey, crumbs, egg, chives and pepper in a large bowl and gently mix in cooled onion-garlic mixture until combined.
4. Add 2 cups of the Soup to turkey mixture and mix well. Divide mixture into half and place into 2 sprayed half-size hotel pans (4 1/2 lb. meat loaf mixture/pan) and pat to form a loaf. Top meat loaf with 1 cup soup spread evenly on the surface.

5. Bake in 325°F. convection oven for 45-60 minutes. CCP: Cook to an internal temperature of 155°F. or higher for 15 seconds.
6. Meanwhile, in a pot whisk together remaining 2 1/2 cups of soup along with water, vinegar, thyme and pepper and bring to a simmer; reduce heat and simmer 3 minutes, whisking until smooth. Keep warm until ready to serve. CCP: Hold hot at 140°F or higher for service.
7. To Serve: Cut each pan of meatloaf into 12 portions. For each serving, serve one wedge of meatloaf topped with a 3 Tbsp.-ladle of gravy and garnished with 1 Tbsp. chives.
Recipe Tip
Very lean ground beef or chicken can be substituted for the turkey.