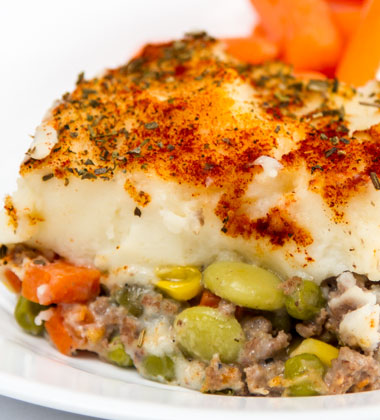 Nutrition Facts
Serving Size
1 PIECE (1/25 PAN)
Amount Per Serving
% Daily Value
Child Nutritional Content
mma: 2.0oz
grain: 0.0oz
totalVegetable: 0.5c
darkGreen: 0.0c
redOrange: 0.0c
legumes: 0.0c
starchy: 0.25c
other: 0.0c
additional: 0.25c
fruit: 0.0c
milk: 0.0c
This hearty Western dish is made with seasoned ground beef, Healthy Request® Condensed Cream of Mushroom Soup,  and creamy mashed potatoes.
Recipe Yields:
NOTE: Use your professional judgement when resizing recipes. Seasoning, cooking times, etc, may require adjustment.
estimate your profit
Enter the cost of the soup and any garnishing costs to get the cost per bowl of soup.
Enter the selling price per bowl and your profit for each bowl is calculated based on Step 1.
Enter the number of bowls you typically serve each day and how many days per week you are open (or serve this soup). Profits will be calculated using your numbers from Steps 1 and 2.
| | | |
| --- | --- | --- |
| Ingredients | Weight | Measure |
85% lean ground beef

136

oz.

mixed vegetables (carrots, green beans, corn, peas)

97

oz.

14 3/4

cups

minced onion

2

tbsp.

salt

2

tsp.

black pepper

2

tbsp.

Italian seasoning

1

tbsp.

paprika

1

tsp.

water

6

cups

low fat (1%) milk

6

cups

margarine spread with zero grams trans fat

6

oz.

0 3/4

cups

instant mashed potato flakes

2

lb.

18

cups

salt

2

tsp.

paprika

1

tsp.

Italian seasoning

1

tbsp.
1. In large pan, brown the ground beef. Drain and continue immediately.
2. To beef mixture, add mixed vegetables, condensed soup, onions, salt, pepper, and first measures of paprika and Italian seasoning. Stir together until well combined.
CCP: Cover and hold at 140°F or higher.
3. To prepare mashed potatoes, place boiling water and milk in a large bowl or mixer bowl. Add margarine, potato flakes, and salt. Mix with a wire whisk or paddle attachment for approximately 1 minute or until well blended.
To Assemble:
1. Pour 3 qt + 3 cups (8 lb) of ground beef mixture into each steam table pan (12" x 20" x 2 ½").For each batch of 50 portions, use 2 pans.

2. Spread 4 lb (2 qt ¾ cup) of mashed potatoes over the meat mixture in each pan.• Sprinkle with second measures of paprika and Italian seasoning.

3. Bake:• Conventional oven: 375°F for 45 minutes.• Convection oven: 350°F for 30 minutes. Cut each pan 5 x 5 (25 pieces per pan) just before service (serve with spatula).

4. Portion Size = 1 Piece (1/25 pan).

CCP: Heat to 165°F or higher or at least 15 seconds.

CCP Hold for hot service at 140°F or higher.
 
Recipe Tip
Pre-cooked ground beef crumbles may be substituted in this recipe for raw bulk ground beef. If this substitution is made:- Thaw beef crumbles in the refrigerator in advance of preparation. Skip recipe Step 1.- For 50 portions, use 6 lb + 4 oz of beef crumbles. For 100 portions, use 12 lb + 8 oz beef crumbles.