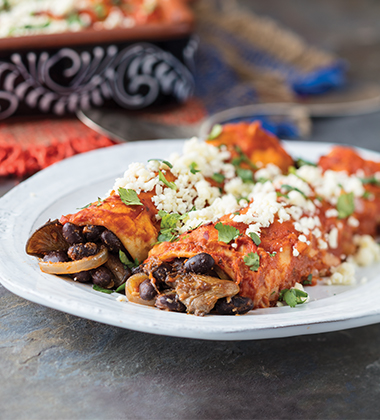 Nutrition Facts
Serving Size
SERVING(2 FILLED ENCHILADAS)
Amount Per Serving
% Daily Value
A truly delightful vegetarian option, this dish is made with a mixture of black beans and roasted mushrooms filled in a corn tortilla and baked with a chipotle tomato sauce
Recipe Yields:
NOTE: Use your professional judgement when resizing recipes. Seasoning, cooking times, etc, may require adjustment.
estimate your profit
Enter the cost of the soup and any garnishing costs to get the cost per bowl of soup.
Enter the selling price per bowl and your profit for each bowl is calculated based on Step 1.
Enter the number of bowls you typically serve each day and how many days per week you are open (or serve this soup). Profits will be calculated using your numbers from Steps 1 and 2.
| | | |
| --- | --- | --- |
| Ingredients | Weight | Measure |
olive oil

0 1/8

cups

onion

9

oz.

2

cups

garlic

1

oz.

2

tbsp.

black beans

46.5

oz.

4 1/2

cups

oyster mushrooms

24

oz.

4

cups

kosher salt

0 1/2

tsp.

black pepper

1

tsp.

whole roasted tomatoes

24

oz.

3

cups

chipotle pepper

1

tbsp.

black pepper

1

tsp.

olive oil

0 1/8

cups

corn tortilla

36

ea.

vegetable cooking spray
cotija cheese

2

oz.

1

cups

cilantro

0 1/4

cups
To Prepare Filling:

1. In a large sauce pan heat olive oil. Add onions. Sweat until light brown. Add garlic. Cook for 3 minutes.

2. Add black beans. Cook for 10 minutes on low heat. Add V8® Spicy Hot Vegetable Juice. Simmer until reduced by half.

3. Fold in roasted mushrooms. Season with salt and pepper. Let mixture cool. Reserve.

 
To Prepare Sauce:

1. In separate pot, add tomatoes, chipotle and V8® Spicy Hot Vegetable Juice. Simmer for 30 minutes. Season with pepper.

2. Using a blender, puree tomato sauce mixture until smooth. Reserve. Keep warm.

 
To Assemble:

1. Lightly brush tortillas with olive oil. Warm tortillas slightly in a pan. Reserve. Keep warm.

2. Portion 2 1/2 tablespoons of the black bean mixture into the center of each warm tortilla. Tightly roll to seal. Repeat process

3. Using non-stick cooking spray, lightly oil casserole dish.  Line with rolled tortillas

4. Ladle sauce evenly over top of each to coat each enchilada. Bake in a 350°F oven for 20-25 minutes.

CCP: Heat to a minimum internal temperature of 165°F for 1 minute.
 
To Serve:

1. To garnish, top with Cojita cheese and cilantro.

2. Using a serving spoon, portion 2 enchiladas onto plate. Serve immediately.