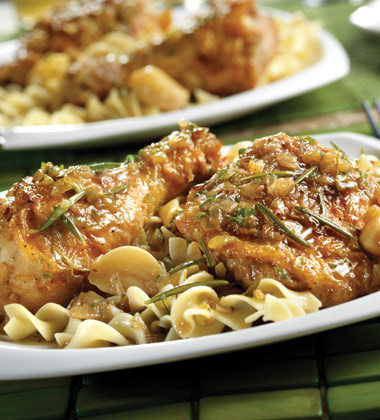 Nutrition Facts
Serving Size
1 SERVING (1 THIGH, 1 DRUMSTICK, 1 CUP SAUCE)
Amount Per Serving
% Daily Value
Try this delicious chicken dish made with Swanson® Natural Goodness® Chicken Broth.  Perfectly complimented with flavors from garlic, rosemary, fresh vidalia onions and served over noodles.
Recipe Yields:
NOTE: Use your professional judgement when resizing recipes. Seasoning, cooking times, etc, may require adjustment.
estimate your profit
Enter the cost of the soup and any garnishing costs to get the cost per bowl of soup.
Enter the selling price per bowl and your profit for each bowl is calculated based on Step 1.
Enter the number of bowls you typically serve each day and how many days per week you are open (or serve this soup). Profits will be calculated using your numbers from Steps 1 and 2.
| | | |
| --- | --- | --- |
| Ingredients | Weight | Measure |
all-purpose flour

2

cups

black pepper

1

tbsp.

bone-in chicken thigh

98

oz.

24

ea.

chicken drumstick

111

oz.

24

ea.

canola oil

0 1/2

cups

Vidalia onion

1

qt.

garlic

0 1/2

cups

fresh rosemary leaves

24

ea.

lemon zest

3

tbsp.

fresh parsley

1

cups

lemon zest

2

tbsp.

cooked noodles

1 1/2

gallons
1. In deep, half hotel pan, mix flour and pepper; add chicken in batches and toss to coat completely. Place on clean sheetpan. CCP: Refrigerate below 40°F. until ready to use as directed.
2. In rondo or large, deep sauté pan, heat all but 1 Tbsp. oil over medium heat; brown chicken, in batches if necessary, until browned on all sides, about 10 minutes. Remove chicken pieces from pan and place in one layer in bottom of 2 full-size hotel pans to hold. CCP: Hold hot at 140°F or higher for service.
3. Pour off hot oil and discard. Add remaining 1 Tbsp. oil to pan and sauté onions, stirring often, for 5 minutes or until they start to brown.

4. Stir in garlic and continue to cook 3-4 minutes, stirring often.

5. Pour in Broth, rosemary and lemon and bring to a simmer. Pour hot mixture evenly over chicken in hotel pans. Cover and bake in 350°F. convection oven for 35-40 minutes or until chicken is cooked through. CCP: Cook to an internal temperature of 165°F. or higher for 15 seconds. CCP: Hold hot at 140°F or higher for service.
6. Just before serving stir in parsley and lemon zest.

7. For Each Serving: Scoop out 1 cup hot noodles into bottom of a soup plate and top with 1 chicken leg and 1 chicken drumstick. Ladle 1 cup broth over top and serve.
Recipe Tip
In place of noodles, try serving with rice, mashed potatoes, turnips or parsnips.