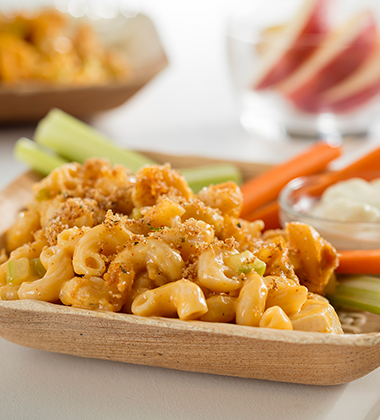 Nutrition Facts
Serving Size
SERVING (#4 SCOOP, 1 CUP PLUS 6 CELERY STICKS)
Amount Per Serving
% Daily Value
Child Nutritional Content
mma: 2.0oz
grain: 1.0oz
totalVegetable: 0.5c
darkGreen: 0.0c
redOrange: 0.0c
legumes: 0.0c
starchy: 0.0c
other: 0.5c
additional: 0.0c
fruit: 0.0c
milk: 0.0c
Get your lunch line moving with this spiced up Mac & Cheese made with cooked macaroni, chicken, cheese and Campbell's® Healthy Request® Cream of Chicken Soup.
Recipe Yields:
NOTE: Use your professional judgement when resizing recipes. Seasoning, cooking times, etc, may require adjustment.
estimate your profit
Enter the cost of the soup and any garnishing costs to get the cost per bowl of soup.
Enter the selling price per bowl and your profit for each bowl is calculated based on Step 1.
Enter the number of bowls you typically serve each day and how many days per week you are open (or serve this soup). Profits will be calculated using your numbers from Steps 1 and 2.
| | | |
| --- | --- | --- |
| Ingredients | Weight | Measure |
whole grain elbow macaroni

18

oz.

vegetable oil

2

tbsp.

onion

15

oz.

3

cups

celery

7

oz.

3

cups

chili powder

1

tbsp.

buffalo hot wing sauce

4

tbsp.

water

2

cups

cooked diced chicken

20

oz.

4

cups

Cheddar cheese

20

oz.

5

cups

vegetable cooking spray
whole wheat bread crumbs

1

cups

celery

36

oz.

7 1/2

cups
1. Cook pasta according to package directions (until just tender). Drain and cool. Reserve.

CCP: Cool to 70°F within 2 hours and to 41°F within an additional 4 hours.
 
2. In saucepan, heat oil over medium-high heat. Add onions. Sauté for 5 minutes, or until onions begin to brown.

3. Stir in celery, chili powder and buffalo sauce. Cook 1 additional minute.

4. Add Campbell's® Healthy Request® Cream of Chicken Soup and water. Bring to a simmer over medium heat. Cook for 2 minutes.

5. Stir in chicken and cheese. Return to a simmer. Reserve.

CCP: Heat to a minimum internal temperature of 165°F for 1 minute.

CCP: Hold for hot service at 140°F or higher until needed.

6. Fold cooked pasta into warm chicken-cheese sauce. Stir well to mix thoroughly. Reserve.

 
8. Spray the interiors of 2 short, half-hotel pans. Sprinkle interior of each sprayed pan with 2 tablespoons bread crumbs. Divide pasta mixture between the 2 pans (approximately 2 1/2 qt. per pan). Sprinkle top of each pan with remaining crumbs (6 tablespoons per pan).

9. Bake at 400°F. for 2-25 minutes, or until mixture is bubbling and golden on top. Remove from heat.

CCP: Hold for hot service at 140°F or higher until needed.

10. To serve, using a #4 scoop, portion 1 cup onto plate. As a side, serve with 6 celery sticks (about 3/8 cup). Serve immediately.




 
Recipe Tip
To save time, prepare elbow macaroni the day before service. 18oz. dry yields 10 cups cooked.

CCP: Hold for cold service at 41°F until needed.
For extra heat, serve with spicy salsa!
Possible Condiment: 1 Tablespoon Blue Cheese Dressing.