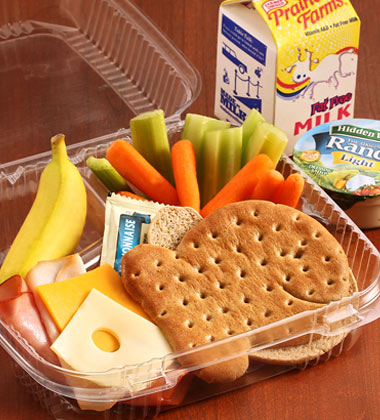 Nutrition Facts
Serving Size
1 EACH (1 SANDWICH PLUS MEAL ACCOMPANIMENTS)
Amount Per Serving
% Daily Value
Child Nutritional Content
mma: 2.0oz
grain: 1.0oz
totalVegetable: 1.0c
darkGreen: 0.125c
redOrange: 0.625c
legumes: 0.0c
starchy: 0.0c
other: 0.25c
additional: 0.0c
fruit: 0.5c
milk: 1.0c
Kids can build their own sandwich with Goldfish® bread, commodity deli turkey, cheese and ham, romaine lettuce and tomato.
Recipe Yields:
NOTE: Use your professional judgement when resizing recipes. Seasoning, cooking times, etc, may require adjustment.
estimate your profit
Enter the cost of the soup and any garnishing costs to get the cost per bowl of soup.
Enter the selling price per bowl and your profit for each bowl is calculated based on Step 1.
Enter the number of bowls you typically serve each day and how many days per week you are open (or serve this soup). Profits will be calculated using your numbers from Steps 1 and 2.
| | | |
| --- | --- | --- |
| Ingredients | Weight | Measure |
1. Split Goldfish® sandwich bread.  Place bread in clear hinged container.
2. Add the following to the hinged container:
a. 1 oz reduced sodium deli turkey and 3/4 oz reduced sodium ham (commodity)*
b. 1/4 cup romaine lettuce
c. 2 thin slices omato

*NOTE: 1.6 oz. commodity turkey provides 1 oz. M/MA, 1.22 oz. commodity ham provides 1 oz. M/MA
3. Add 1/2 cup baby carrots, 1 packet of dressing, and a small banana to the hinged container.

4. Offer with 8 oz milk for a complete reimbursable meal.
Recipe Tip
Meal Contributions: Meat Alternate - 2 oz; Grain - 1 oz; Vegetables- 1 cup TOTAL 1/8 cup dark green, 5/8 cup red/orange, 1/4 cup other); Fruit- 1/2 cup; Milk- 1 cup