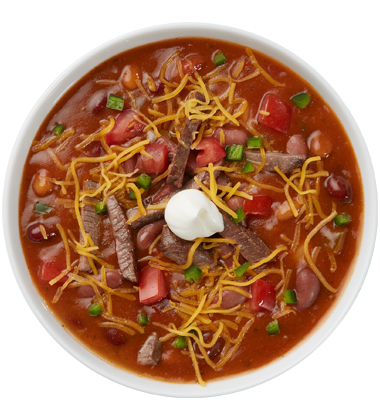 Nutrition Facts
Serving Size
16 oz Bowl (10 fl oz prepared soup base + garnish)
Amount Per Serving
% Daily Value
Offer prepared Campbell's® Vegetarian Chili Customizer™, beef, kidney beans, tomatoes, green or red peppers, cheddar cheese, scallions, sour cream, and parsley on your Soup Bar, to inspire patrons to create a delicious bowl of chili according to our Recipe Suggestion Card posted at your point of service. Expand the number of ingredients on your Soup Bar offerings to empower patrons to build their own custom creations.

NOTE: Soup Bowl pictured depicts a self-serve station preparation by consumer and may not match the recipe below.
 
Recipe Yields:
NOTE: Use your professional judgement when resizing recipes. Seasoning, cooking times, etc, may require adjustment.
estimate your profit
Enter the cost of the soup and any garnishing costs to get the cost per bowl of soup.
Enter the selling price per bowl and your profit for each bowl is calculated based on Step 1.
Enter the number of bowls you typically serve each day and how many days per week you are open (or serve this soup). Profits will be calculated using your numbers from Steps 1 and 2.
| | | |
| --- | --- | --- |
| Ingredients | Weight | Measure |
1. Prepare Campbell's® Vegetarian Chili Customizer™ according to package directions.

NOTE: This product is ready to heat and does not require reconstitution.  

CCP: Hold for hot service at 190⁰F.
2. Place remaining ingredients in separate serving pans or bowls. 

CCP: Hold for cold service at 41⁰ F or lower.

 

3. Place all ingredients on the Soup Bar serving unit: prepared Soup Customizer™ in a heated kettle or hot well; remaining ingredients in cold pans.

CCP: To avoid food waste, ensure cold food on your Soup Bar is held at 41⁰F or lower, and ensure prepared Soup Customizer™ is held hot at 190⁰F.

4. Provide separate serving utensils for each ingredient, and 16 oz serving bowls.

NOTE: Combining 140⁰F garnish and 190⁰F hot soup will result in a finished bowl of soup that is approximately 165⁰F final serving temperature.
.

 
Recipe Tip
At a self-serve Soup Bar, actual patron food selections may vary.  Variations will alter this recipe's nutrition analysis.
 
Alternate method of service- Pre Made Soup Bowls for grab-and-go:

Assemble garnish in 16 oz bowls in the back of the house. 
Merchandize in a refrigerated area in your serving area. 
Offer hot prepared Soup Customizer™ in kettles for customers to ladle the hot soup into their pre made bowl; or, the hot Soup Customizer™ can be portioned by a cafe station.

Add the following ingredients to make ONE pre-made bowl:
• Beef - 2 oz.
• Beans - 2 tablespoons (#30 scoop)
• Tomatoes- 1 tablespoon (#60 scoop)
• Peppers- 1 tablespoon (#60 scoop)
• Cheese- 1 tablespoon (#60 scoop)
• Scallions - 1 teaspoon
• Sour Cream - 1 teaspoon
• Parsley - 1 teaspoon

To finish each bowl, remove the lid from the bowl, ladle 10 oz. of hot prepared Soup Customizer™ over the garnish, and replace the lid.