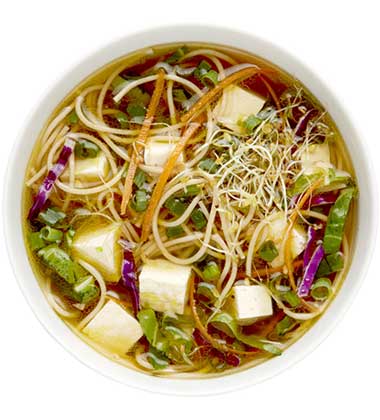 Nutrition Facts
Serving Size
1 SERVING (see method for instructions)
Amount Per Serving
% Daily Value
Child Nutritional Content
mma: 1.0oz
grain: 1.0oz
totalVegetable: 0.75c
darkGreen: 0.125c
redOrange: 0.0c
legumes: 0.0c
starchy: 0.0c
other: 0.625c
additional: 0.0c
fruit: 0.0c
milk: 0.0c
This flavorful spin on a Vietnamese noodle soup favorite made with Campbell's® Vegetarian Vietnamese Pho Soup Customizer™ is an easy to prepare vegetarian entrée you can offer as part of a complete reimbursable meal.
Recipe Yields:
NOTE: Use your professional judgement when resizing recipes. Seasoning, cooking times, etc, may require adjustment.
estimate your profit
Enter the cost of the soup and any garnishing costs to get the cost per bowl of soup.
Enter the selling price per bowl and your profit for each bowl is calculated based on Step 1.
Enter the number of bowls you typically serve each day and how many days per week you are open (or serve this soup). Profits will be calculated using your numbers from Steps 1 and 2.
| | | |
| --- | --- | --- |
| Ingredients | Weight | Measure |
bean sprouts

44

oz.

10

cups

cole slaw mix (shredded cabbage and carrots)

25

oz.

10

cups

bok choy

50

oz.

20

cups

green onion

25

oz.

10

cups

whole grain spaghetti

165

oz.

40

cups

firm tofu

80

oz.
1. Prepare Soup Customizer™ with water according to package directions.

CCP: Heat to 165°F for one minute.
CCP: Hold for hot service at 160°F.
 
2. Prepare the vegetables.  Place each individual type of vegetable in separate pans or bowls until bowls are pre-assembled.

CCP: Hold at 41°F until bowls are pre-assembled.

3. To pre-assemble each bowl:

a. Place the following ingredients in a 16 oz. bowl:

- 1/2 cup (#8 scoop) noodles
- 1 oz. (#30 scoop) tofu
- 2 tbsp.. (#30 scoop) bean sprouts
- 2 tbsp. (#30 scoop) slaw mix
- 1/4 cup. (#16 scoop) bok choy
- 2 tbsp. (#30 scoop) green onion

b. Use tongs to gently toss all of the ingredients in the bowl together.

c. Place a lid on each bowl.

CCP: Hold at 41°F until bowls are served.

4. To serve:

a. Remove the lid from the bowl.

b. Use a 6 oz. ladle to portion 3/4 cup of hot broth into the bowl.

c. Replace lid on bowl.  Serve immediately. 
Recipe Tip
Consider substituting raw green onion, unblanched, for the onions in this recipe.
Offer with 1 oz equivalent whole grain dinner roll or crackers, 1/4 cup veggie sticks, 1/2 cup fruit, and 8 oz. milk for a complete reimbursable meal.
Garnish each bowl with fresh sliced jalapeno peppers and a dash of sriracha sauce, if desired.