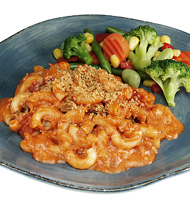 Nutrition Facts
Amount Per Serving
% Daily Value
Condensed tomato soup and diced tomatoes turn elbow macaroni, shredded cheddar, and ground pork into a saucy specialty, baked to golden brown with crumbs on top.
Recipe Yields:
NOTE: Use your professional judgement when resizing recipes. Seasoning, cooking times, etc, may require adjustment.
estimate your profit
Enter the cost of the soup and any garnishing costs to get the cost per bowl of soup.
Enter the selling price per bowl and your profit for each bowl is calculated based on Step 1.
Enter the number of bowls you typically serve each day and how many days per week you are open (or serve this soup). Profits will be calculated using your numbers from Steps 1 and 2.
| | | |
| --- | --- | --- |
| Ingredients | Weight | Measure |
elbow macaroni

8

lb.

diced tomatoes

13

lb.

6

qt.

ground pork

18.5

lb.

salt
black pepper
Cheddar cheese

5

lb.

5

qt.

bread crumbs

20

oz.

5

cups
1. Cook macaroni. Rinse; drain. Set aside.
2. In large soup pot combine soup and tomatoes.CCP: Heat until internal temperature is 165°F or higher for 15 seconds, stirring occasionally.
3. Add cooked pork to soup mixture and season to taste with salt and pepper.
4. Preheat convection oven to 375°F. Add cheese and macaroni to tomato mixture. Fill five 12 x 20 x 2-1/2 steam table pans. Cover each pan with 1 cup breadcrumbs.CCP: Bake at 325°F for 15 minutes until internal temperature is 140°F or higher for 15 seconds.
5. CCP: Hold at 140°F or higher. Portion 8 oz. (1 cup). Alternate diced ham for pork in recipe for a hearty Smoky Ham and Cheddar Bake. For added flavor, combine dry breadcrumbs with melted margarine, mix well and portion over baking pans as directed in step

4. When cooking in a conventional oven, expect longer cooking times than cooking in a convection oven.