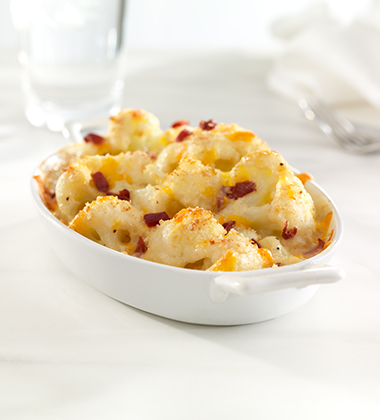 Nutrition Facts
Serving Size
1/2 CUP (4 OZ SPOODLE)
Amount Per Serving
% Daily Value
This show-stopping side made with Campbell's® Signature Low Sodium Chicken Culinary Foundation is so good it almost steals the show.  With lots of cheese and a creamy sauce, this is a veggie dish that your patrons will love!
Recipe Yields:
NOTE: Use your professional judgement when resizing recipes. Seasoning, cooking times, etc, may require adjustment.
estimate your profit
Enter the cost of the soup and any garnishing costs to get the cost per bowl of soup.
Enter the selling price per bowl and your profit for each bowl is calculated based on Step 1.
Enter the number of bowls you typically serve each day and how many days per week you are open (or serve this soup). Profits will be calculated using your numbers from Steps 1 and 2.
| | | |
| --- | --- | --- |
| Ingredients | Weight | Measure |
1. Heat the oven to 400°F.

2. Cook the cauliflower in boiling water or in a steamer for 5 minutes or until tender-crisp. Rinse the cauliflower with cold water and drain well in a colander.
3. Melt 1/4 of the butter over medium heat. Add the bread crumbs and cook and stir until the bread crumbs are golden brown.
4. Melt the remaining butter over medium heat.   Add the flour and cook and stir for 1 minute. 

5. Stir in the milk, Campbell's® Signature Low Sodium Chicken Culinary Foundation, water, bay leaves and garlic. Heat to a boil, stirring constantly.  Reduce the heat to low.  Cook and stir for 10 minutes or until the mixture is thickened.  

6. Season with 1/4 of of the black pepper.  Remove and discard the bay leaves and garlic. Keep the milk mixture warm.
7. Spray a steamtable pan with vegetable cooking spray. Place the cauliflower into the pan. 

8. Season with the remaining black pepper. 

9. Pour the milk mixture over the cauliflower.

10. Sprinkle with the prosciutto. 

11. Top with the cheese and bread crumb mixture.

12. Bake for 30 minutes or until the cauliflower is tender and the cheese is melted. 

CCP: Ensure final cook step reaches a minimun internal temperature of 165°F for one minute.

Let stand for 15 minutes before serving.

CCP- Hold hot at 140°F or higher for service.

Portion size = 1/2 cup (#8 scoop or 4 oz spoodle)