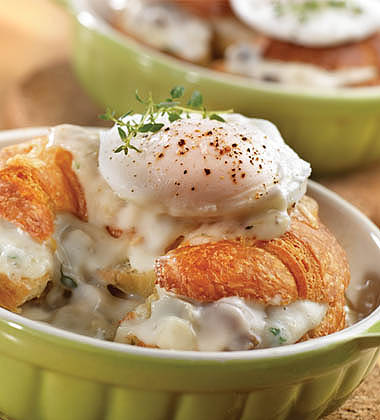 Nutrition Facts
Serving Size
1 EACH (1 CROISSANT, POACHED EGG, AND SAUCE)
Amount Per Serving
% Daily Value
Made with Campbells® Condensed Cream of Mushroom Soup, Gruyère cheese and thyme- this upscale version of croissant egg and cheese will entice any crowd.
Recipe Yields:
NOTE: Use your professional judgement when resizing recipes. Seasoning, cooking times, etc, may require adjustment.
estimate your profit
Enter the cost of the soup and any garnishing costs to get the cost per bowl of soup.
Enter the selling price per bowl and your profit for each bowl is calculated based on Step 1.
Enter the number of bowls you typically serve each day and how many days per week you are open (or serve this soup). Profits will be calculated using your numbers from Steps 1 and 2.
| | | |
| --- | --- | --- |
| Ingredients | Weight | Measure |
vegetable oil

2

tbsp.

yellow onion

1

lb.

3

cups

low fat (1%) milk

1 1/2

cups

fresh thyme leaves

2

tbsp.

Gruyère cheese

7.5

oz.

2

cups

croissant

24

oz.

12

ea.

Gruyère cheese

3

oz.

0 3/4

cups

poached egg

12

ea.

cracked black pepper

0 1/2

tsp.

fresh thyme leaves

12

ea.
Mushroom Onion Mixture1. In large skillet heat oil over medium-high heat; add onions and sauté 3 minutes.2. Add Mushroom Soup, milk and thyme and simmer for 5 minutes, stirring often, until heated through. Add cheese, remove from heat and stir to blend. Reserve.
3. For Each Serving:
-Place the bottom half of a croissant in a lightly buttered individual oven-to-table dish.
-Top with ½ cup mushroom mixture and spread to cover. Replace croissant top to cover mushroom mixture.
-Top croissant with additional ¼ cup mixture. Sprinkle with 1 Tbsp. cheese.

4. Preheat conventional oven to 400ºF. Bake casseroles 12-15 minutes or until golden brown and bubbly. CCP: Hold at 140° F. or higher for service.
5. To Serve: Top each casserole with a poached egg 1/8 tsp cracked black pepper and thyme sprig.