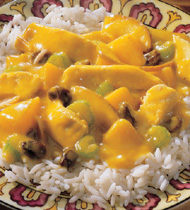 Nutrition Facts
Amount Per Serving
% Daily Value
Recipe Yields:
NOTE: Use your professional judgement when resizing recipes. Seasoning, cooking times, etc, may require adjustment.
estimate your profit
Enter the cost of the soup and any garnishing costs to get the cost per bowl of soup.
Enter the selling price per bowl and your profit for each bowl is calculated based on Step 1.
Enter the number of bowls you typically serve each day and how many days per week you are open (or serve this soup). Profits will be calculated using your numbers from Steps 1 and 2.
| | | |
| --- | --- | --- |
| Ingredients | Weight | Measure |
unbreaded chicken breast strips, frozen, fully cooked

4

lb.

Red Delicious apple

14

oz.

3

cups

canned peaches in light syrup

4

lb.

2

qt.

raisins

1

lb.

2

cups

celery

10

oz.

2

cups

almonds

4.5

oz.

1

cups

water

0 1/2

cups

honey

0 1/4

cups

turmeric

1

tbsp.

curry powder

1

tbsp.

ground ginger

1

tsp.

ground cinnamon

0 1/4

tsp.

garlic powder

0 1/4

tsp.

cooked couscous

1 1/2

gallons

fresh parsley

0 1/2

cups
1. Place chicken, apple sliced, peach cubes, raisins, celery and almonds into the bottom of a full-size hotel pan and toss to mix well.
2. In large bowl, whisk together soup, honey, water, turmeric, curry powder, ginger, cinnamon and garlic powder. Pour soup mixture over pan. Cover.

3. Bake in 350º F. convention or 300°F. convection oven for 65-75 minutes, stirring mixture after 50 minutes. CCP: Bake until internal temperature is 165º F. or higher for 15 seconds. CCP: Hold at 140º F. or higher. Portion using 8-oz. ladle (1 cup). Serve over rice, couscous or rice pilaf.
4. To Serve: Scoop 1 cup rice or cous cous into a soup plate and ladle 1 cup/8 oz. curried chicken over top. Sprinkle with 2 tsp. minced parsley to garnish.
Recipe Tip
Rice may be used in place of couscous.