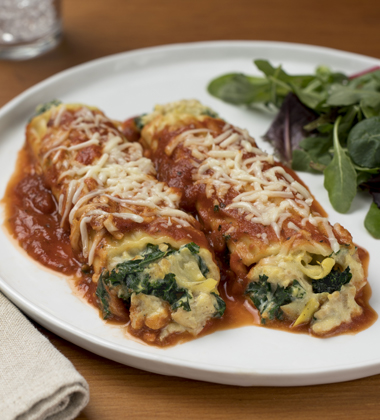 Nutrition Facts
Serving Size
SERVING (2 FILLED CANNELLONI)
Amount Per Serving
% Daily Value
A classic baked stuffed pasta dish with a creamy filling made with Campbells® Healthy Request® Condensed Cream of Chicken Soup, tender chicken, artichokes, spinach, and onions. Topped with Prego® No Salt Added Pasta Sauce and baked to perfection.
Recipe Yields:
NOTE: Use your professional judgement when resizing recipes. Seasoning, cooking times, etc, may require adjustment.
estimate your profit
Enter the cost of the soup and any garnishing costs to get the cost per bowl of soup.
Enter the selling price per bowl and your profit for each bowl is calculated based on Step 1.
Enter the number of bowls you typically serve each day and how many days per week you are open (or serve this soup). Profits will be calculated using your numbers from Steps 1 and 2.
| | | |
| --- | --- | --- |
| Ingredients | Weight | Measure |
manicotti shells

26

oz.

48

ea.

canola oil

1

tsp.

ground chicken

2

artichoke hearts

28

oz.

3 1/2

cups

2% milk mozzarella cheese

8

oz.

2

cups

onion

4.5

oz.

1

cups

black pepper

1

tsp.

no salt added ricotta cheese

30

oz.

4

cups

egg

4

ea.

kale

9

oz.

10

cups
Prepare Pasta:

1. Cook manicotti according to package directions. Cool. Reserve.
Prepare Chicken:

1. In large sauté pan heat canola oil over high heat.  

2. Add chicken. Cook for 5 minutes, stirring often to ensure chicken crumbles. Reserve. 
 
Prepare Filling:

1. In a large bowl, combine Campbell's® Healthy Request® Cream of Chicken Soup, reserved chicken, artichokes, 1/2 of the listed amount of mozzarella, onions, black pepper, ricotta cheese and eggs. Mix well. Reserve.
Prepare Kale:

1. In a large pot bring 2 gallons of water to a boil. Blanch kale for 15 seconds. Strain. Add to soup mixture. Mix well.

Assemble & Bake:
1. Place soup mixture in a pastry bag. Pipe roughly 2.25 ounces of mixture into each pasta tub. Repeat until pasta tubes are finished.

2. Using a 12-ounce ladle, spread 1-1/2 cups of Prego® No Salt Added Sauce on the bottom of two hotel pans. 

3. Place filled pasta on top of the sauce. Repeat until 24 are in each pan.

4. Using a 12-ounce ladle, spread 1-1/2 cups sauce over top of the pasta in each pan. Bake for 30 minutes in a preheated 325°F oven.

5. Top with remaining cheese. Bake for additional 3 minutes.

CCP: Heat to a minimum internal temperature of 165°F for 1 minute.

CCP: Hold for hot service at 140°F or higher until needed.

To Serve: Portion 2 filled cannelloni onto serving plate. Serve immediately.
Recipe Tip
this recipe requires 2 pounds raw chicken, cooked and crumbled.