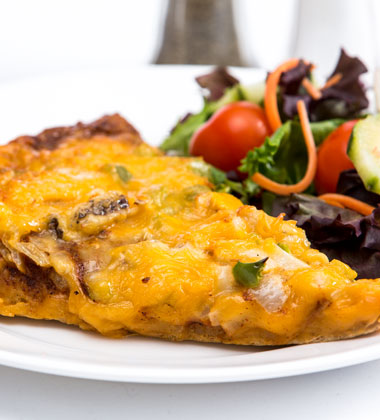 Nutrition Facts
Amount Per Serving
% Daily Value
Child Nutritional Content
mma: 2.0oz
grain: 2.0oz
totalVegetable: 0.25c
darkGreen: 0.0c
redOrange: 0.0c
legumes: 0.0c
starchy: 0.0c
other: 0.25c
additional: 0.0c
fruit: 0.0c
milk: 0.0c
Pizza with a South-West, Tex-Mex flair will add excitement to any menu! Made with Campbells® Healthy Request® Condensed Cream of Chicken Soup, this twist on ordinary pizza is sure to please your patrons.


 
Recipe Yields:
NOTE: Use your professional judgement when resizing recipes. Seasoning, cooking times, etc, may require adjustment.
estimate your profit
Enter the cost of the soup and any garnishing costs to get the cost per bowl of soup.
Enter the selling price per bowl and your profit for each bowl is calculated based on Step 1.
Enter the number of bowls you typically serve each day and how many days per week you are open (or serve this soup). Profits will be calculated using your numbers from Steps 1 and 2.
| | | |
| --- | --- | --- |
| Ingredients | Weight | Measure |
canola oil

2

tbsp.

onion

58

oz.

6

cups

green pepper

58

oz.

6

cups

granulated garlic

1

tbsp.

chili powder

0 3/4

cups

black pepper

1

tbsp.

cumin

1

tbsp.

unseasoned chicken strips, cooked, frozen

30

oz.

sheeted whole grain pizza dough

6

ea.

reduced fat Cheddar cheese

72

oz.

18

cups

crushed red pepper

0 1/4

cups
1. Over medium high heat, add oil to skillet. Sauté onions and peppers.

CCP: Hold at 140°F or above until pizzas are assembled.
To Prepare Sauce:

2. Combine Campbells® Healthy Request® Condensed Cream of Chicken Soup, garlic, and spices. Mix well to combine and evenly distribute all ingredients. Reserve.
To Prepare Pizza:

1. Evenly distribute the following onto each pizza crust:
1 cup (8 oz. spoodle) of sauce- using back of spoodle spread within ½" of the crust edge.
5 oz. chicken
1 cup each of onions and  peppers
12 oz shredded cheddar
2. Bake pizza in a convection, conventional, or conveyor oven according to crust manufacturer's baking instructions. Check pizza during baking to make sure it does not burn.

CCP: Heat to a minimum internal temperature of 165°F for 1 minute.

CCP: Hold for hot service at 140°F or higher until needed.

To Serve:
1. Sprinkle 2 tsp hot pepper flakes evenly over each topped pizza (optional).

2. Cut each pizza into 8 equally sized pieces just before ready to serve.  Serve immediately.
Recipe Tip
1.8 oz chicken fajita strips provides 1 oz equivalent meat/meat alternate
Use pizza crust with manufacturer documentation that 1/8 of a whole crust contributes 2 servings of total grain and that meets USDA requirements for a whole grain rich food for the school meal programs.
Batch cook for best product quality.
Portion size = 1 slice (1/8 pie).