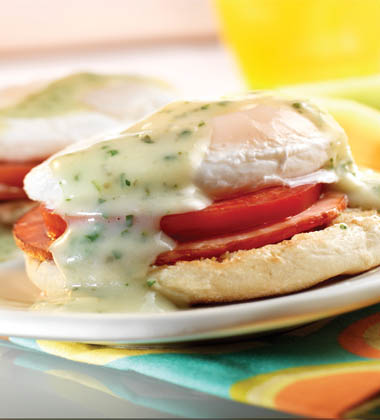 Nutrition Facts
Serving Size
1 SERVING (2 EGGS AND SAUCE OVER ENGLISH MUFFIN)
Amount Per Serving
% Daily Value
Try our delicious Chicken Poached Eggs with Pesto Benedict made with Swanson® Natural Goodness® Chicken Broth.  Poached eggs, tomato, Canadian bacon, and basil pesto layered inside an English muffin makes for delicious breakfast that works on any menu.
Recipe Yields:
NOTE: Use your professional judgement when resizing recipes. Seasoning, cooking times, etc, may require adjustment.
estimate your profit
Enter the cost of the soup and any garnishing costs to get the cost per bowl of soup.
Enter the selling price per bowl and your profit for each bowl is calculated based on Step 1.
Enter the number of bowls you typically serve each day and how many days per week you are open (or serve this soup). Profits will be calculated using your numbers from Steps 1 and 2.
| | | |
| --- | --- | --- |
| Ingredients | Weight | Measure |
water

1

qt.

egg

24

ea.

unsalted butter

0 1/4

cups

all-purpose flour

0 33/100

cups

water

1

qt.

half and half

1

cups

basil pesto

2

tbsp.

Parmesan cheese

3.5

oz.

1

cups

English muffin

22

oz.

12

ea.

Canadian bacon

24

oz.

24

ea.

tomato slice

25

oz.

24

ea.
To Make Poached Eggs
1. In a shallow sauté pan heat Chicken Broth and water to a simmer. Add eggs, 1 at a time, moving with 2 spoons to keep eggs in tact. (Poach 6 eggs at a time). Cook 2-3 minutes or until just tender but soft.
2. Remove eggs from poaching liquid and drain.
3. Strain poaching liquid and reserve for Pesto Cream Sauce.
CCP: Hold at 140° F or higher for service.
To Make Pesto Cream Sauce
1. In a sauce pan heat butter. Whisk in flour and cook on medium heat 3-4 minutes. Add strained poaching liquid in a slow steady stream whisk well between additions. Bring sauce to a boil. Reduce to simmer and cook 3-4 minutes.
2. Add cream, pesto and cheese and mix well. Hold sauce until ready to use as directed.
CCP: Hold at 140° F or higher for service.
3. For each serving: Place 2 English muffins halves on a serving plate. Top each muffin with 1 slice Canadian bacon, 1 slice tomato and 1 poached egg. Nape with about 2 ounces Pesto Cream Sauce over muffins.
Recipe Tip
Serve with fresh fruit.