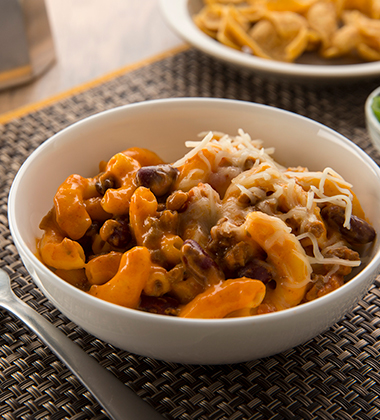 Nutrition Facts
Serving Size
1 SERVING (1 1/2 CUPS; 1- #4 + 1- SCANT #8 SCOOP)
Amount Per Serving
% Daily Value
Chili Mac & Cheese made with Campbell's®  Macaroni and Cheese and Campbell's® Signature Hearty Beef Chili with beans.
Recipe Yields:
NOTE: Use your professional judgement when resizing recipes. Seasoning, cooking times, etc, may require adjustment.
estimate your profit
Enter the cost of the soup and any garnishing costs to get the cost per bowl of soup.
Enter the selling price per bowl and your profit for each bowl is calculated based on Step 1.
Enter the number of bowls you typically serve each day and how many days per week you are open (or serve this soup). Profits will be calculated using your numbers from Steps 1 and 2.
| | | |
| --- | --- | --- |
| Ingredients | Weight | Measure |
vegetable cooking spray
Monterey Jack cheese

8

oz.

2

cups

Fritos® Original Corn Chips

7

oz.

3

cups
Preparation:

1. Thaw Campbell's® Signature Macaroni and Cheese and Campbell's® Signature Hearty Beef Bean with Chili according to package directions.

CCP: Hold for cold service at 41°F until needed.
Mac & Cheese Mixture:

1. Preheat oven to 375°F. 

2. Spray oven-proof casserole dish with vegetable cooking spray. Reserve.

3. In large bowl, mix together thawed macaroni and chili. Stir until combined. Place in a greased oven-proof casserole dish. 

4. Evenly top filled casserole dish with shredded cheese.

5. Bake for 30 minutes, or until golden brown.

CCP: Heat to a minimum internal temperature of 165°F for 1 minute.

CCP: Hold for hot service at 140°F or higher until needed.
To Serve:

1. Using 1- #4 scoop and 1- scant # 8 scoop, portion about 1-1/2 cups (10 oz.) onto plate.

2. Top with crushed corn chips, or offer on the side.  Serve immediately.
Recipe Tip
For extra heat, try using Pepper Jack Cheese.
Garnish with chopped green onion for extra color.