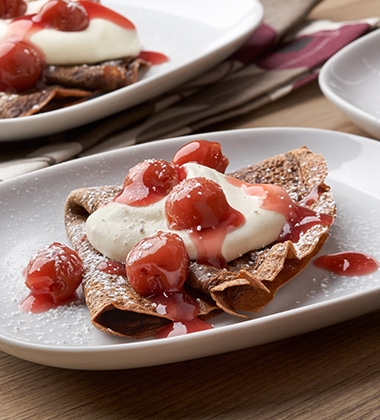 Nutrition Facts
Serving Size
1 SERVING (1 CREPE TOPPED WITH 1/4 CUP WHIPPED CRE
Amount Per Serving
% Daily Value
Sweet Chocolate Crepes topped with Whipped Cream and Sugared Cherries. Made with Campbell's® Condensed Cream of Mushroom Soup, this decadent dessert is a perfect way to sweeten any holiday menu.
Recipe Yields:
NOTE: Use your professional judgement when resizing recipes. Seasoning, cooking times, etc, may require adjustment.
estimate your profit
Enter the cost of the soup and any garnishing costs to get the cost per bowl of soup.
Enter the selling price per bowl and your profit for each bowl is calculated based on Step 1.
Enter the number of bowls you typically serve each day and how many days per week you are open (or serve this soup). Profits will be calculated using your numbers from Steps 1 and 2.
| | | |
| --- | --- | --- |
| Ingredients | Weight | Measure |
egg

34

oz.

17

water

5 1/2

cups

vanilla extract

0.5

oz.

8 1/4

tsp.

all-purpose flour

41

oz.

8 1/4

cups

unsalted butter

12

oz.

148 1/2

tsp.

unsweetened cocoa powder

6.5

oz.

148 1/2

tsp.

sugar

10

oz.

49 1/2

tsp.

heavy cream

66

fl oz.

sugar

4

oz.

24 3/4

tsp.

red tart pitted cherries

71

oz.

8 1/4

cups

sugar

2

oz.

12 1/4

tsp.

orange liqueur

0 1/2

fl oz.

cornstarch

2 1/2

tsp.
1. Place eggs, Campbells® Condensed Cream of Mushroom Soup, water, sugar, and vanilla extract in a blender. Combine at high speed until mixture is creamy and smooth.

2. Add flour and melted butter using low to medium low speed. Combine until smooth. Strain and set mixture in refrigerator for a minimum of 2 hours, preferably overnight to allow bubbles to escape.

CCP: Hold for cold service at 41°F until needed.
3. In a large bowl or mixer, combine heavy cream and first listed measure of sugar until mixture forms stiff peaks. Reserve.

CCP: Hold for cold service at 41°F until needed.
 
4.  Drain liquid from cherries.  Reserve.

5. In medium bowl, combine cherries and second listed measure of sugar. Allow to macerate for at least 20 minutes before serving.

6. Heat a 9" nonstick pan or crepe pan over medium heat. Spray with non-stick spray.

7. Add 2 fl. oz. of batter to pan and quickly swirl to form an even circle.

8. Allow to cook about 3 minutes, or until the top is dry and slightly lighter in color. Fold into a quarter circle and remove from the pan.

CCP: Heat to a minimum internal temperature of 165°F for 1 minute.
CCP: Hold for hot service at 140°F or higher until needed.

 
9.  In pot, combine reserved cherry juice and orange liqueur.  Bring to boil and simmer over medium heat until reduced by half.

10. To serve, using a spatula, place 1 crepe in center of an 8-inch plate. Using two separate #100 scoops , top with 2 tablespoons of whipped cream and 2 tablespoons of cherries. Drizzle with warmed cherry juice. Serve immediately.
Recipe Tip
Sprinkle lightly with powdered sugar to garnish if desired.