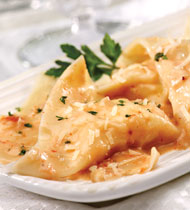 Nutrition Facts
Serving Size
1 SERVING (8 RAVIOLI, 1 CUP SAUCE)
Amount Per Serving
% Daily Value
Ravioli for the seafood lover, featuring Campbell's® Reserve Bayside Crab & Cream Bisque with Sherry.
Recipe Yields:
NOTE: Use your professional judgement when resizing recipes. Seasoning, cooking times, etc, may require adjustment.
estimate your profit
Enter the cost of the soup and any garnishing costs to get the cost per bowl of soup.
Enter the selling price per bowl and your profit for each bowl is calculated based on Step 1.
Enter the number of bowls you typically serve each day and how many days per week you are open (or serve this soup). Profits will be calculated using your numbers from Steps 1 and 2.
| | | |
| --- | --- | --- |
| Ingredients | Weight | Measure |
crabmeat

2

lb.

reduced fat (part skim) ricotta cheese

17.5

oz.

2

cups

wonton wrapper

128

ea.

egg

4

ea.

all-purpose flour
tomato paste

8

oz.

1

cups

kosher salt
Parmesan cheese

5.25

oz.

1 1/2

cups

fresh parsley

1.5

oz.

0 3/4

cups
1. Drain crabmeat. In mixing bowl, combine ricotta cheese and crabmeat.boil.

2. For Each Ravioli: Brush one wonton wrapper with beaten egg. Place 1/2 teaspoon crab mixture in center, fold wrapper over diagonally to create a triangle. Press edges to seal. Transfer to a flour dusted sheetpans. Repeat. CCP: Refrigerate below 40°F.
3. Heat the Campbell's® Reserve Bayside Crab & Cream Bisque with Sherry to 185°F.boil.

4. Wisk in tomato purée. Return to a simmer. Keep warm. CCP: Hold hot at 140°F or higher for service.
5. Bring a large pot of salted water to a boil.

6. For Each Serving: In batches of 8, drop ravioli into boiling water. Cook for 2 minutes, or until the ravioli float to the surface. Remove ravioli with a slotted spoon and gently transfer into a soup plate or large bowl.
6. Ladle 1 cup sauce into a hot soup over top of raviolis in soup plate. Garnish top of each serving with 1 1/2 Tbsp. Parmesan and 2 tsp. parsley.