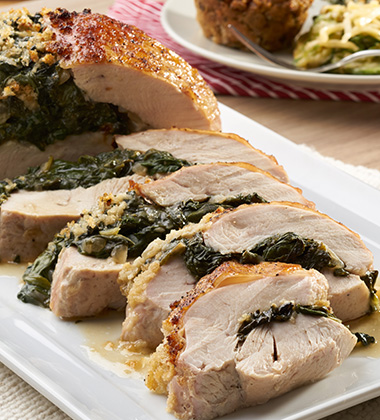 Nutrition Facts
Serving Size
1 SERVING (2.75 OZ SLICE STUFFED TURKEY BREAST)
Amount Per Serving
% Daily Value
A savory combination of two seasonal favorites. Turkey Breast stuffed with creamed spinach made with Campbell's® Healthy Request® Condensed Cream of Mushroom Soup. Topped with crispy breadcrumbs this recipe is sure to delight any holiday menu.
Recipe Yields:
NOTE: Use your professional judgement when resizing recipes. Seasoning, cooking times, etc, may require adjustment.
estimate your profit
Enter the cost of the soup and any garnishing costs to get the cost per bowl of soup.
Enter the selling price per bowl and your profit for each bowl is calculated based on Step 1.
Enter the number of bowls you typically serve each day and how many days per week you are open (or serve this soup). Profits will be calculated using your numbers from Steps 1 and 2.
| | | |
| --- | --- | --- |
| Ingredients | Weight | Measure |
turkey breast, meat and skin

693

oz.

canola oil

1 3/8

cups

onion

41

oz.

11

cups

kosher salt

5 1/2

tsp.

black pepper

5 1/2

tsp.

dry white wine

88

fl oz.

baby spinach

107

oz.

352

cups

kosher salt

6 1/2

tsp.

black pepper

2 3/4

tsp.

panko

12.5

oz.

5 1/2

cups

canola oil

0 3/4

cups
1. Preheat oven to 500°F.
2. Make a pocket in the turkey breast
by laying it skin side up on the cutting board and cut on the wing side. This will make a pocket above the tenderloin. Set aside.
CCP: Hold for cold service at 41°F until needed.
3.

Heat a large pot over medium heat. Add canola oil, minced onions, and black pepper. Stirring constantly, cook until onions are translucent, about 5 minutes.





4. Add white wine. Allow to reduce until almost dry, about 7 minutes.



5. Add spinach. Cook until completely wilted.

6. Remove from heat. Drain off any liquid.  Add Campbells® Healthy Request® Condensed Cream of Mushroom Soup.

 Reserve.



CCP: Hold for hot service at 140°F or higher until needed.

 
7

. Season turkey breasts on the outside and inside the pocket with kosher salt and black pepper.
8. Evenly distribute the spinach mixture inside each breast pocket. To avoid leaking, make sure each pocket points upward after stuffing

.
9.

Combine panko and canola oil. Distribute equally between the exposed spinach stuffing.





10. Place in oven and roast until stuffing reaches 160°F.



11. Remove from oven. Allow temperature of the stuffing to reach 165°F. Slice turkey breasts into 5 ounce portions.



CCP: Heat to a minimum internal temperature of 165°F for 1 minute.




CCP: Hold for hot service at 140°F or higher until needed.





12. To serve, using tongs, portion (1) - 5 ounce stuffed turkey breast slice onto plate.  Serve immediately.
Recipe Tip
To maintain moisture and crispy skin, baste turkey occasionally during cooking.