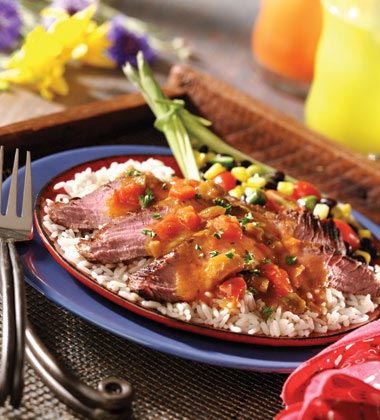 Nutrition Facts
Serving Size
1 SERVING (3 OZ SLICED STEAK, 3/4 CUP RICE)
Amount Per Serving
% Daily Value
Picante sauce puts just the right amount of "fire" in this flavorful marinade for grilled flank steak.
Recipe Yields:
NOTE: Use your professional judgement when resizing recipes. Seasoning, cooking times, etc, may require adjustment.
estimate your profit
Enter the cost of the soup and any garnishing costs to get the cost per bowl of soup.
Enter the selling price per bowl and your profit for each bowl is calculated based on Step 1.
Enter the number of bowls you typically serve each day and how many days per week you are open (or serve this soup). Profits will be calculated using your numbers from Steps 1 and 2.
| | | |
| --- | --- | --- |
| Ingredients | Weight | Measure |
orange juice

3

qt.

olive oil

2

cups

brown sugar

0 3/4

cups

soy sauce

0 3/4

cups

Dijon-style mustard

0 3/4

cups

ground ginger

0 1/8

cups

beef flank steak

158

oz.

cooked long grain white rice

40

oz.

24

cups

fresh parsley

0 1/4

cups
1. Stir Pace® Picante sauce, orange juice, oil, brown sugar, soy sauce, mustard and ginger in nonmetallic bowl. Add beef and turn to coat. Cover the bowl and refrigerate for 1 hour or overnight.

CCP: Refrigerate at 41 °F (5 °C) or lower.

2. Lightly oil grill rack and heat to medium. Grill beef for 10 minutes for medium-rare or until desired doneness, turning beef over once halfway through grilling time. Baste often with the picante sauce mixture.

CCP: Cook the beef to 145 °F.
CCP: Hold for hot service at 140°F or higher until needed.

3. Heat remaining picante sauce mixture in a stockpot over medium-high heat. Bring to a boil. Reduce heat to low. Cook for 10 minutes, or until the mixture is thickened, stirring occasionally.

CCP: Hold for hot service at 140°F or higher until needed.

 
4. Slice the beef into 48 slices (about 3 ounces each).

5. To Serve: Using tongs, place 1 slice beef on plate.  Using a heaping #40 scoop, top with 2 tablespoons picante sauce mixture.   Using a heaping #6 scoop, portion ¾ cup prepared rice next to beef on plate. Sprinkle with ¼ teaspoon parsley for garnish. Serve immediately.



CCP: Hold for hot service at 140°F or higher until needed.
Recipe Tip
Serve with Herbed Grilled Vegetables and 1/2 cup of fresh peaches for a meal less than 500 calories. You can substitute 1 gal crushed pineapple, undrained, for the orange juice. Recipe variations may alter nutrient analysis.