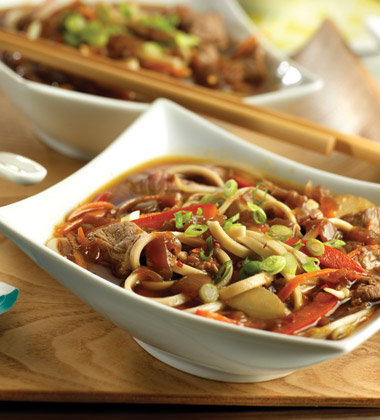 Nutrition Facts
Amount Per Serving
% Daily Value
Chef Tim "Bo" Bernard's Asian-inspired take on French onion soup, mixes ingredients such as cooked udon noodles, julienne-cut red pepper, flank steak with Campbell's® 50-oz. French Onion soup.
Recipe Yields:
NOTE: Use your professional judgement when resizing recipes. Seasoning, cooking times, etc, may require adjustment.
estimate your profit
Enter the cost of the soup and any garnishing costs to get the cost per bowl of soup.
Enter the selling price per bowl and your profit for each bowl is calculated based on Step 1.
Enter the number of bowls you typically serve each day and how many days per week you are open (or serve this soup). Profits will be calculated using your numbers from Steps 1 and 2.
| | | |
| --- | --- | --- |
| Ingredients | Weight | Measure |
water

1 1/2

qt.

reduced sodium soy sauce

1

cups

red wine vinegar

0 33/100

cups

ginger root

1

tbsp.

crushed red pepper

0 1/4

tsp.

vegetable oil

0 3/4

cups

beef flank steak

3

lb.

carrot

2

cups

water chestnuts

2

cups

red bell pepper

1

qt.

bean sprouts

2

cups

vermicelli pasta, cooked

1

gallons

green onion

2

oz.

1

cups
1. In large stock pot, heat soup, stock, soy sauce, rice vinegar and pepper flakes over medium high heat to a boil; reduce heat and simmer 15 minutes.
2. Keep warm until ready to use. CCP: May be served hot at 140°F or higher, or chilled to 40°F or lower.
3. For Each Serving: In large skillet or wok heat 2 tsp. oil over high heat; add 3 oz. beef strips and sauté 1 minute or until browned on all sides. Remove and hold.
4. Add 2 Tbsp. each carrot shreds and water chestnut slices and sauté briefly, about 15 seconds. Return beef to skillet along with 1/4 cup peppers and 2 Tbsp. bean sprouts and continue to cook 15 seconds, stirring constantly.
5. To Serve: Place 1 cup cooked noodles into bottom of a service bowl and top with stir-fried beef and vegetables mixture. Ladle 1 cup Onion broth over top and sprinkle top with 1 Tbsp. sliced scallions to garnish. Serve while hot.
Recipe Tip
Try substituting undon noodles for vermicelli pasta in this recipe.
2 pounds dry vermicelli pasta or dry undon noodles will yield 1 gallon cooked noodles.