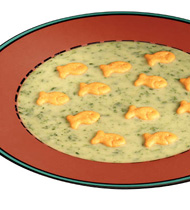 Nutrition Facts
Serving Size
1 CUP (8 FL OZ)
Amount Per Serving
% Daily Value
Child Nutritional Content
mma: 0.25oz
grain: 0.75oz
totalVegetable: 0.125c
darkGreen: 0.0c
redOrange: 0.0c
legumes: 0.0c
starchy: 0.125c
other: 0.0c
additional: 0.0c
fruit: 0.0c
milk: 0.0c
Fun and creative- this soup is perfect for K-12 and Children's Hospitals. Campbell's® Healthy Request® Condensed Cream of Chicken Soup combined with peas, spinach, onions, Swiss and Parmesan cheese makes a delicious, cheesy soup that all kids will love.  Garnished with Pepperidge Farm® Cheddar crackers to create the effect of fish swimming in their lagoon (soup). 
Recipe Yields:
NOTE: Use your professional judgement when resizing recipes. Seasoning, cooking times, etc, may require adjustment.
estimate your profit
Enter the cost of the soup and any garnishing costs to get the cost per bowl of soup.
Enter the selling price per bowl and your profit for each bowl is calculated based on Step 1.
Enter the number of bowls you typically serve each day and how many days per week you are open (or serve this soup). Profits will be calculated using your numbers from Steps 1 and 2.
| | | |
| --- | --- | --- |
| Ingredients | Weight | Measure |
water

150

oz.

3

cans

frozen peas

3

lb.

9

cups

frozen spinach

2.25

lb.

11

cups

onion

6

oz.

1 1/2

cups

Swiss cheese

1.5

lb.

1 1/2

qt.

Parmesan cheese

9

oz.

3

cups
1. Pour soup into saucepot.

2. Add 1/2 soup can water to blender. Add peas, spinach and onions. Cover and puree. Set aside.

3. Add remaining water and pureed vegetables to saucepot. Heat to a boil.CCP: Heat until internal temperature is 165°F. or higher for 15 seconds.

4. Remove from heat. Add cheeses and stir until melted.
CCP: Hold at 140°F. or higher. Portion using 8-oz. ladle (1 cup). Garnish each with 1/2 oz Pepperidge Farm® Goldfish Crackers.