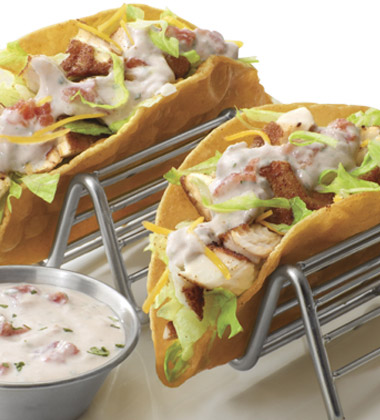 Nutrition Facts
Serving Size
1 SERVNG (2 TACOS, 2 TBSP SAUCE)
Amount Per Serving
% Daily Value
Most anything can be used to fill a taco but marinated, grilled fish stuffed intotortillas and slathered with salsa and yogurt make this delicious.
Recipe Yields:
NOTE: Use your professional judgement when resizing recipes. Seasoning, cooking times, etc, may require adjustment.
estimate your profit
Enter the cost of the soup and any garnishing costs to get the cost per bowl of soup.
Enter the selling price per bowl and your profit for each bowl is calculated based on Step 1.
Enter the number of bowls you typically serve each day and how many days per week you are open (or serve this soup). Profits will be calculated using your numbers from Steps 1 and 2.
| | | |
| --- | --- | --- |
| Ingredients | Weight | Measure |
plain nonfat Greek yogurt

1

lb.

2

cups

cilantro

0 1/2

cups

cumin

3

tbsp.

paprika

3

tbsp.

kosher salt

1

tbsp.

ground red pepper

0 3/4

tsp.

olive oil
whitefish

4.5

lb.

24

ea.

flour tortilla

52.5

oz.

48

ea.

iceberg lettuce

1.5

lb.

3

qt.

reduced fat Cheddar cheese

12

oz.

3

cups
1. In a bowl mix together yogurt, Pace® Chunky Salsa and cilantro. Place in a covered container. Refrigerate.

CCP: Refrigerate below 40°F at least 2 hours before using as directed.
2. In small bowl combine cumin, paprika, salt and pepper. Toss well to mix. Cover and hold to use as directed.

3. Place fish filets on an oiled sheetpan. Brush filets with oil. Sprinkle the spice rub evenly over both sides of fish. Grill fish over medium flame, 3-4 minutes per side or roast fish in 425°F. conventional or 375°F. convection oven for 8-10 minutes, or until fish flakes easily when tested with a fork. Remove from heat and break each filet into pieces.

CCP: Heat to a minimum internal temperature of 165°F for 1 minute.

CCP: Hold hot at 140°F or higher for service.
4. Heat tortillas or taco shells according to package directions.

To Serve:

1. Divide fish evenly between tortillas (1 1/2 oz. each). Top each tortilla with the following:
1/4 cup lettuce
1 tablespoon cheese
1 tablespoon yogurt-salsa cream

2. Roll to enclose and serve.
Recipe Tip
Serve with hard taco shells instead of flour tortillas.