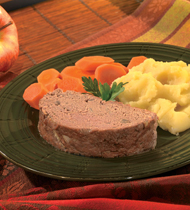 Nutrition Facts
Serving Size
1 SLICE (1-INCH THICK, 4 OZ WEIGHT)
Amount Per Serving
% Daily Value
Try our Homestyle Meatloaf recipe made with V8® 100% Vegetable Juice, beef, egg, bread crumbs, Worcestershire, black pepper and onion.  Topped with cheese and served with mashed potatoes for a classic, hearty dish everyone loves.
Recipe Yields:
NOTE: Use your professional judgement when resizing recipes. Seasoning, cooking times, etc, may require adjustment.
estimate your profit
Enter the cost of the soup and any garnishing costs to get the cost per bowl of soup.
Enter the selling price per bowl and your profit for each bowl is calculated based on Step 1.
Enter the number of bowls you typically serve each day and how many days per week you are open (or serve this soup). Profits will be calculated using your numbers from Steps 1 and 2.
| | | |
| --- | --- | --- |
| Ingredients | Weight | Measure |
canola oil

2

oz.

0 1/4

cups

onion

12

oz.

2

cups

80% lean ground beef

6

lb.

frozen liquid egg

8

oz.

1

cups

bread crumbs

4.5

oz.

1 1/2

cups

Worcestershire sauce

2

tbsp.

black pepper

1

tsp.

American cheese

6

oz.

6

slices

mashed potatoes

12

cups
1. Heat oil in sauté pan or tilt skillet. Add onion and cook until tender. Cool.

2. Mix beef, eggs, bread crumbs, vegetable juice, Worcestershire, black pepper and onion thoroughly in large bowl. Shape meat mixture firmly into 2 loaves, approximately 4 1/2 lb. each (14 x 6 x 2"). Place meatloaves on half sheet pan.

3. Bake at 350°F. conventional oven for 1 hour or 325°F. convection oven for 45-60 minutes or until internal temperature reaches 165°F.
4. Place 3 slices cheese on top of each meatloaf, if desired. Bake 5 minutes more or until cheese melts.

5. Let meatloaves stand 10 minutes. CCP: Heat until internal temperature is 165°F. or higher for 15 seconds.CCP: Hold at 140°F. or higher. Slice each meatloaf into 12 (1-inch) thick slices. Serve each portion with 1/2 cup mashed potatoes.