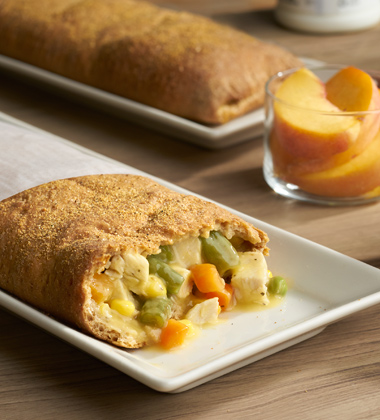 Nutrition Facts
Serving Size
1 FILLED POCKET
Amount Per Serving
% Daily Value
Child Nutritional Content
mma: 2.0oz
grain: 2.0oz
totalVegetable: 0.5c
darkGreen: 0.0c
redOrange: 0.0c
legumes: 0.0c
starchy: 0.25c
other: 0.125c
additional: 0.125c
fruit: 0.0c
milk: 0.0c
A convenient and portable version of the classic chicken pot pie made with GoldKistFarms® Diced Chicken and Campbell's® Cream of Chicken Soup.
 
Recipe Yields:
NOTE: Use your professional judgement when resizing recipes. Seasoning, cooking times, etc, may require adjustment.
estimate your profit
Enter the cost of the soup and any garnishing costs to get the cost per bowl of soup.
Enter the selling price per bowl and your profit for each bowl is calculated based on Step 1.
Enter the number of bowls you typically serve each day and how many days per week you are open (or serve this soup). Profits will be calculated using your numbers from Steps 1 and 2.
| | | |
| --- | --- | --- |
| Ingredients | Weight | Measure |
GoldKistFarms® Diced Chicken

136

oz.

33

cups

frozen peas and carrots

15.5

oz.

6 1/4

cups

frozen whole kernel corn

50

oz.

9 1/2

cups

frozen cut green beans

50

oz.

10 1/2

cups

basil leaves

4

tsp.

Parmesan cheese

4

tsp.

black pepper

1

tsp.

onion powder

2 1/2

tbsp.

garlic powder

2 1/2

tbsp.

whole grain pizza dough

135

oz.

6 1/4

ea.

vegetable cooking spray
1. In a medium bowl, combine GoldKistFarms® Diced Chicken , peas and carrot blend, corn, green beans, basil and Campbell's® Cream of Chicken Soup. Mix well.  Reserve.

 
2.  In a small bowl, mix Parmesan cheese, pepper, onion powder, and garlic powder until well blended. Reserve for topping.
 
3.  On a lightly floured surface, roll out each full pizza dough sheet to 12 ½ x 48-inch and cut into 8- 12 ½ x 6-inch pieces.  Roll the ¼ pizza dough sheet to 12 ½ x 12-inch and cut into 2- 12 1/2 x 6- inch pieces (making 50 rectangles total).  Cut rectangles in half (hamburger style) making sure to not cut al the way through.

4.  Using (2) #8 scoops, portion about 1-1/8 cup chicken mixture onto half of rectangle pieces. Fold dough and pinch to make a seam. Using a fork, lightly press prongs on edges to create a crinkled design effect.

5.  Lightly spray top of each pocket with canola oil cooking spray and sprinkle with 1/8 teaspoon seasoning mixture.  Poke a small hole into top of each pocket to allow steam to vent.  Bake at 375°F for 25-30 minutes or until golden brown.  

CCP: Heat to a minimum internal temperature of 165°F for 1 minute.

CCP: Hold for hot service at 140°F or higher until needed.


 

 
Recipe Tip
Perfectly paired with any variety of Campbell's® Healthy Request® Condensed Soup.
For a complete reimbursable meal, serve with 8 oz. milk and 1 serving of fruit. 
Allow frozen ingredients to thaw at room temperature before mixing.