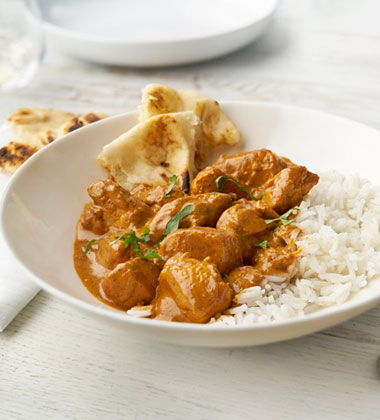 Nutrition Facts
Serving Size
1 SERVING (#8 SCOOP, 1/2 CUP)
Amount Per Serving
% Daily Value
Tender pieces of chicken simmered in a blend of V8® Low Sodium Vegetable Juice and coconut milk infused with garam masala, cumin and cayenne pepper.
Recipe Yields:
NOTE: Use your professional judgement when resizing recipes. Seasoning, cooking times, etc, may require adjustment.
estimate your profit
Enter the cost of the soup and any garnishing costs to get the cost per bowl of soup.
Enter the selling price per bowl and your profit for each bowl is calculated based on Step 1.
Enter the number of bowls you typically serve each day and how many days per week you are open (or serve this soup). Profits will be calculated using your numbers from Steps 1 and 2.
| | | |
| --- | --- | --- |
| Ingredients | Weight | Measure |
butter

6

oz.

0 1/2

cups

boneless, skinless chicken breast

7.5

lb.

yellow onion

6

oz.

2

cups

garlic

2 1/4

tbsp.

garam masala

1

tbsp.

ginger root

3

tbsp.

chili powder

2

tsp.

cumin

1

tbsp.

cayenne pepper

1 1/2

tsp.

unsweetened coconut milk

1 1/2

qt.

kosher salt

0 1/2

tsp.

black pepper

0 1/2

tsp.

cilantro

3

tbsp.

lime

7

ea.
1. Melt 3 ounces of butter in a large skillet over medium-high heat.  Working in batches, cook chicken just until brown on all sides. Reserve.

CCP: Hold for hot service at 140°F or higher until needed.
2. Melt the remaining 3 ounces of butter in the same skillet over medium heat.  Add onion. Sauté until almost translucent, about 3 minutes.

3. Add garlic, garam masala, ginger, chili powder, cumin, and cayenne.
Stir to combine. Cook for about 1 minute.

4 . Add V8 Low Sodium©. Bring mixture to a simmer. Cook for 5 minutes.

5. Add coconut milk. Bring mixture back to a simmer. Add browned chicken.  Simmer on low heat for 10-15 minutes.  Stir in salt and pepper.

CCP: Heat to a minimum internal temperature of 165°F for 1 minute.
CCP: Hold for hot service at 140°F or higher until needed.

 
5. To garnish, sprinkle top with cilantro.

6. To serve, using a #8 scoop, portion 1/2 cup chicken mixture onto plate. Top with 1 lime wedge.  Serve immediately.
Recipe Tip
Indian Butter Chicken can be made 1 day in advance and reheated for service.
CCP: Hold for cold service at 41°F until needed.

Serve Indian Butter Chicken with either Jasmine Rice or Naan.