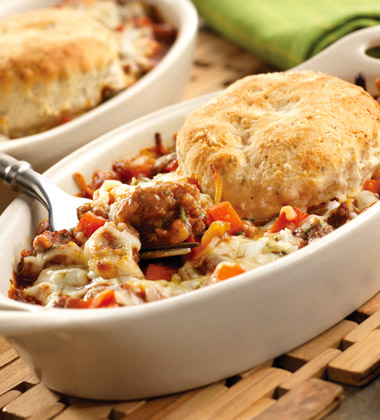 Nutrition Facts
Serving Size
1 SERVING, 1-1/4 CUP FILLING, 1 BISCUIT)
Amount Per Serving
% Daily Value
Not your ordinary pot pie!  Campbell's® Condensed Tomato Soup and Swanson® Beef Broth combine with ground beef, pork sausage, onion, peppers garlic, Mozzarella and Parmesan cheese to bring Italian flare to any menu.
Recipe Yields:
NOTE: Use your professional judgement when resizing recipes. Seasoning, cooking times, etc, may require adjustment.
estimate your profit
Enter the cost of the soup and any garnishing costs to get the cost per bowl of soup.
Enter the selling price per bowl and your profit for each bowl is calculated based on Step 1.
Enter the number of bowls you typically serve each day and how many days per week you are open (or serve this soup). Profits will be calculated using your numbers from Steps 1 and 2.
| | | |
| --- | --- | --- |
| Ingredients | Weight | Measure |
biscuit baking mix

40

oz.

9

cups

buttermilk

2 3/4

cups

Italian seasoning

1 1/2

tbsp.

80% lean ground beef

2

lb.

bulk pork sausage

1

lb.

olive oil

2

tbsp.

yellow onion

20

oz.

3 1/2

cups

garlic

1

oz.

3

tbsp.

carrot

20

oz.

4 1/2

cups

green and red bell pepper

20

oz.

3 3/4

cups

fresh basil leaves

1

cups

fresh parsley

0 1/2

cups

part skim mozzarella cheese

8

oz.

2

cups

Parmesan cheese

3.5

oz.

1

cups
To Make Biscuits:
1. Add buttermilk to mixing bowl equipped with a paddle attachment. Add biscuit mix, Italian seasoning and mix for 30-60 seconds until combined. Transfer dough to a well greased half sheet pan.

2. With lightly floured hands press dough evenly onto sheet pan. With pastry cutter cut dough into 3 inch round biscuits yielding 24 biscuits.

3. Bake in 450°F. conventional or 400° F. convection oven for 12-15 minutes or until golden.
Note: For individual pot pies top 1 1/4 cup filling with 1 un-baked biscuit and bake as directed.
For a cafeteria line or buffet, biscuits may be baked off separately and placed on top of a heated portion of pot pie filling as it is served.
1. In large pan or stock pot cook ground beef and pork sausage until completely browned. Drain well, reserve meat.
 
2. To sauté vegetables, remove all fat from pot and discard.
Add olive oil and onion and sauté over medium-high heat until golden brown.
Stir in garlic and continue cooking 2 minutes.
Add carrots and cook 5 minutes.
Stir in peppers and continue to cook 3 minutes, stirring often.
3. Pour in soup and broth and bring to a simmer, stirring often. Cook 5 minutes.

4. Add basil and parsley and remove from heat. Transfer mixture (10 lb.) to each lightly greased full-size, 2-in. hotel pan.

5. In bowl mix cheeses and sprinkle evenly over top of pot pie mixture.

6. Top with 16 unbaked herb biscuits, evenly spaced over top of pot pie or portion 1 ¼ cup mixture into each 16-oz. individual casserole dishes and bake in 450°F. conventional or 400° F. convection oven 15-18 minutes or until golden brown and bubbly.

7.  To serve, portion 1-1/2 cups (3- #8 scoops) mixture with one biscuit on plate.