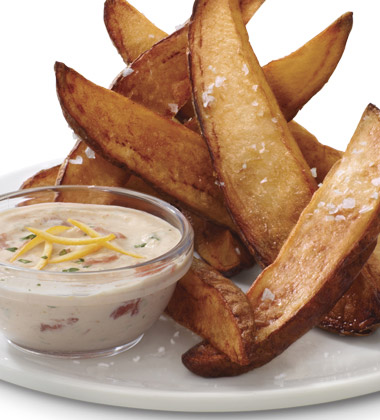 Nutrition Facts
Serving Size
1 SERVING (3 TBSP)
Amount Per Serving
% Daily Value
Mango fruit is made into a reduced syrup and blended into mayonnaise along with salsa, lemon, vinegar and cilantro for a lush dressing or dip.
Recipe Yields:
NOTE: Use your professional judgement when resizing recipes. Seasoning, cooking times, etc, may require adjustment.
estimate your profit
Enter the cost of the soup and any garnishing costs to get the cost per bowl of soup.
Enter the selling price per bowl and your profit for each bowl is calculated based on Step 1.
Enter the number of bowls you typically serve each day and how many days per week you are open (or serve this soup). Profits will be calculated using your numbers from Steps 1 and 2.
| | | |
| --- | --- | --- |
| Ingredients | Weight | Measure |
mango

21

oz.

3

cups

sugar

0 33/100

cups

champagne vinegar

0 33/100

cups

water

0 33/100

cups

light mayonnaise

1

cups

lemon juice

3

tbsp.

lemon zest

2

tsp.

jalapeño pepper

2

tsp.

cilantro

0 1/4

cups

salt

1

pinches

black pepper
1. In saucepan heat mango, sugar, vinegar and water to a boil over a medium-high heat; reduce heat and simmer 10 minutes. Remove from heat and cool to room temperature. Process in a food processor or with an immersion blender just to puree roughly.Hold.
2. In a bowl whisk together mayonnaise, Salsa, lemon juice and zest and jalapeno until smooth. Combine with reserved, cooled mango mixture whisk until thickened and smooth.
3. Stir in cilantro and adjust seasonings. Cover and refrigerate. CCP: Refrigerate below 40°F. at least 2 hours before using as directed.

4. Serve as a dip for chips, vegetables, crackers or tortilla chips as well as a spread for sandwiches and a dressing for salads.