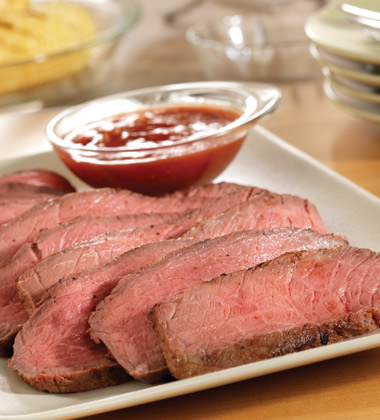 Nutrition Facts
Serving Size
1 SERVING (3 OZ SLICEd BEEF)
Amount Per Serving
% Daily Value
This juicy, tender steak is sizzling with flavor! And you'll be fired up by the garlic and oregano spiked picante sauce that serves as a marinade and a basting sauce.
Recipe Yields:
NOTE: Use your professional judgement when resizing recipes. Seasoning, cooking times, etc, may require adjustment.
estimate your profit
Enter the cost of the soup and any garnishing costs to get the cost per bowl of soup.
Enter the selling price per bowl and your profit for each bowl is calculated based on Step 1.
Enter the number of bowls you typically serve each day and how many days per week you are open (or serve this soup). Profits will be calculated using your numbers from Steps 1 and 2.
| | | |
| --- | --- | --- |
| Ingredients | Weight | Measure |
vegetable oil

2 3/4

cups

dried oregano leaves

7

tsp.

garlic

8

cloves

boneless beef top round steak

12

lb.
1. Stir the Pace® Picante sauce, oil, oregano and garlic in a nonmetallic bowl. Add the beef and turn to coat. Cover the bowl and refrigerate for 30 minutes.
CCP: Refrigerate at 41/45 °F (5/7 °C) or lower.

2. Lightly oil the grill rack and heat the grill to medium. Grill the beef for 25 minutes for medium or until desired doneness, turning and brushing often with the picante sauce mixture. Discard any remaining picante sauce mixture.
CCP: Cook the beef to 145 °F.
CCP: Hold hot at 140 °F.

3. Cut the beef into thin slices. Serve with 2 Tbsp Pace® Picante sauce.
CCP: Hold for hot service at 140 °F.
Recipe Tip
Pair with Avocado Melon Salad with Picante Honey Dressing and 1/2 cup of grapes for a meal under 500 calories.