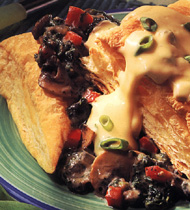 Nutrition Facts
Serving Size
1 SERVING (3/4 CUP FILLING, 1/4 CUP SAUCE)
Amount Per Serving
% Daily Value
Try our Mushroom and Spinach Strata made with Pepperidge Farm® Puff Pastry Squares and Campbell's® Condensed Cream of Mushroom Soup. This delicious recipe is a great substitute for Spanakopita or other finger foods on your menu! 
Recipe Yields:
NOTE: Use your professional judgement when resizing recipes. Seasoning, cooking times, etc, may require adjustment.
estimate your profit
Enter the cost of the soup and any garnishing costs to get the cost per bowl of soup.
Enter the selling price per bowl and your profit for each bowl is calculated based on Step 1.
Enter the number of bowls you typically serve each day and how many days per week you are open (or serve this soup). Profits will be calculated using your numbers from Steps 1 and 2.
| | | |
| --- | --- | --- |
| Ingredients | Weight | Measure |
1. Cut each pastry square in half to form 2 triangles.
2. To make filling: In large braising pan in hot margarine over medium-high heat, cook mushrooms until liquid evaporates.
3. Add onions, peppers, garlic and sherry. Cook until liquid is reduced by half.
4. Add spinach, soup, milk and pepper. CCP: Heat to 140º F. or higher for 15 seconds, stirring constantly.
5. To make sauce: In saucepot mix soup, half-and-half and sherry. Heat through, stirring often.
6. Add cheese and onions. CCP: Heat to 140º F. or higher for 15 seconds, and until cheese is melted, stirring constantly.

7. CCP: Hold filling and sauce at 140º F. or higher. Portion filling using 6-oz. ladle (3/4 cup) over one puff pastry triangle. Cover with another triangle. Ladle sauce using 2-oz. ladle (1/4 cup) over pastry.