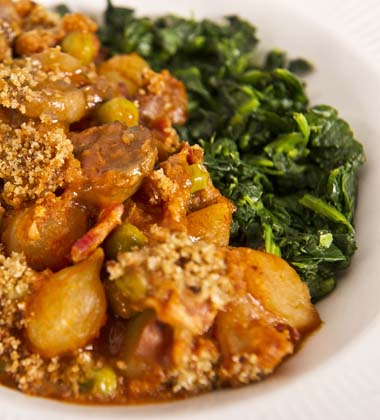 Nutrition Facts
Amount Per Serving
% Daily Value
This Mushroom Bourguignon Bake combines Campbell's® Healthy Request® Condensed Tomato Soup with potato, onions, peas, and garlic to create a delicious dish that everyone will enjoy.
Recipe Yields:
NOTE: Use your professional judgement when resizing recipes. Seasoning, cooking times, etc, may require adjustment.
estimate your profit
Enter the cost of the soup and any garnishing costs to get the cost per bowl of soup.
Enter the selling price per bowl and your profit for each bowl is calculated based on Step 1.
Enter the number of bowls you typically serve each day and how many days per week you are open (or serve this soup). Profits will be calculated using your numbers from Steps 1 and 2.
| | | |
| --- | --- | --- |
| Ingredients | Weight | Measure |
vegetable oil

2

tbsp.

Vidalia onion

1.25

lb.

1

qt.

garlic

2

tbsp.

mushrooms

3

lb.

3

qt.

fresh rosemary leaves

0 1/4

cups

paprika

1 1/2

tbsp.

red wine

1

cups

balsamic vinegar

3

tbsp.

cooked potato

3.5

lb.

2

qt.

frozen pearl onions

1.25

lb.

1

qt.

frozen green peas

1.25

lb.

1

qt.

fresh whole-wheat bread crumb

2

cups

vegetable oil

2

tbsp.
1. In large rondo or pot, heat oil over medium high heat; add onion and sauté 4 minutes.

2. Stir in garlic and continue to cook 2 minutes, stirring often.
3. Mix in mushrooms, rosemary and paprika and cook, stirring often, until starting to glaze, about 8 minutes.
4. Deglaze pan with wine and vinegar and cook 8-10 more minutes.
5. Pour in Soup and bring to a simmer; cook 5 minutes, stirring often. Stir in potatoes, onions and peas and simmer 2 minutes.

6. Transfer mixture (9 1/2 lb.) to a lightly greased, full-size (12 x 20 x 3-in.) hotel pan.
7. In a small bowl combine crumbs and oil and top filled hotel pan evenly with crumb mixture.

8. Bake in 375°F. conventional or 325°F. convection oven 35-40 minutes or until golden brown and bubbly. CCP: Heat to an internal temperature of 165°F. or higher for 15 seconds. CCP: Hold hot at 140°F or higher for service.
9. To Serve: Serve 1 1/4 cups pot pie per serving.