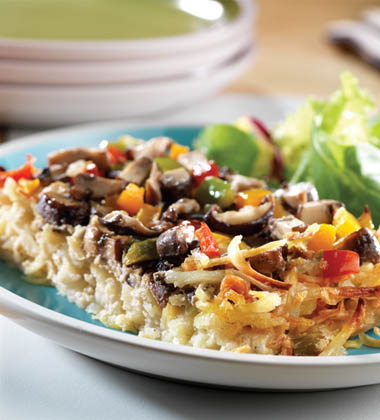 Nutrition Facts
Serving Size
1 PIECE (CUT PAN 3 x 4 TO PRODUCE 12 SERVINGS)
Amount Per Serving
% Daily Value
Crispy potato topped with a medley of peppers and onions, and flavored with Campbell's® Healthy Request ® Cream of Mushroom Soup.  Perfect for a holiday brunch!
Recipe Yields:
NOTE: Use your professional judgement when resizing recipes. Seasoning, cooking times, etc, may require adjustment.
estimate your profit
Enter the cost of the soup and any garnishing costs to get the cost per bowl of soup.
Enter the selling price per bowl and your profit for each bowl is calculated based on Step 1.
Enter the number of bowls you typically serve each day and how many days per week you are open (or serve this soup). Profits will be calculated using your numbers from Steps 1 and 2.
| | | |
| --- | --- | --- |
| Ingredients | Weight | Measure |
vegetable oil

0 1/4

cups

Vidalia onion

20

oz.

3 1/2

cups

assorted bell peppers (green, red, yellow)

20

oz.

3 3/4

cups

garlic

2

tbsp.

mushrooms

2

lb.

13

cups

low fat (1%) milk

1

cups

cholesterol-free egg substitute

17

oz.

2

cups

hash brown potatoes

6

lb.

12 1/2

cups

vegetable cooking spray
COOK MUSHROOM PEPPER MIXTURE:

1. In large skillet heat oil over medium-high heat; add onions and sauté 4 minutes.

2. Add peppers and garlic and sauté 1 minute.

3. Mix in mushrooms and sauté 5 minutes or until mushrooms don't give off any more liquid.

4. Remove from heat and cool. Reserve.
PREPARE MUSHROOM CUSTARD:

5. In pot heat Mushroom Soup and milk over medium-high heat until hot and smooth; remove from heat and cool. CCP: Cover and refrigerate to 40° F. or below for later use.

6. When cooled, whisk in eggs until blended. Reserve.
ASSEMBLE:

7. For each full steam table pan: Spray pan with non-stick spray. Pat 3 pounds of hash-browns into bottom of each pan. Bake in 400°F. convection oven for 30 minutes or until brown and crisp. Remove from heat and cool.

8. For each full steam table pan:
-Spread 4 cups of mushroom-pepper mixture evenly over top of crisp hash browns in pan.
-Pour 9 cups of mushroom custard evenly over top of mushroom mixture.

BAKE:

9. Place pan into 325°F. Convection oven and bake 40-50 minutes or until custard is firm and slightly browned. Let sit 15 minutes before serving. CCP: Hold at 140° F. or higher for service.

10. To Serve: Cut each full steam table pan into 12 pieces (about 2" x 3-3/4").  One serving = 1 piece.
Recipe Tip
Suggested recipe variation: instead of just one kind of mushroom, used a mixed variety.
Suggested menu accompaniment: offer with a crisp green salad.
Recipe sized for 12 portions will make one (1) half-sized pan. Recipe sized for 24 portions will make one (1) full-sized pan.