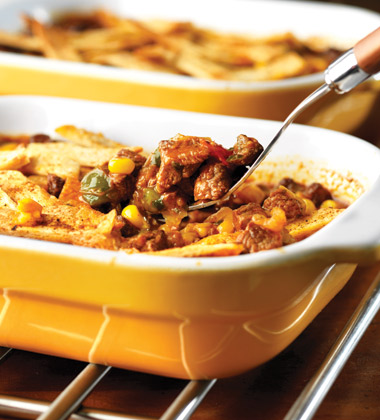 Nutrition Facts
Serving Size
1 SERVING (1-1/4 CUP FILLING, TORTILLA TOPPING)
Amount Per Serving
% Daily Value
Try a new twist to the traditional pot pie. Made with Pace®  Mild Picante Sauce, beef chuck roast, onions, peppers, corn, Cheddar cheese and topped with homemade crispy tortilla strips.
Recipe Yields:
NOTE: Use your professional judgement when resizing recipes. Seasoning, cooking times, etc, may require adjustment.
estimate your profit
Enter the cost of the soup and any garnishing costs to get the cost per bowl of soup.
Enter the selling price per bowl and your profit for each bowl is calculated based on Step 1.
Enter the number of bowls you typically serve each day and how many days per week you are open (or serve this soup). Profits will be calculated using your numbers from Steps 1 and 2.
| | | |
| --- | --- | --- |
| Ingredients | Weight | Measure |
flour tortilla

9

oz.

8

ea.

vegetable oil
green onion

3.5

oz.

1

cups

southwest seasoning blend
vegetable oil

3

tbsp.

boneless beef chuck roast

6

lb.

yellow onion

24

oz.

4 1/4

cups

garlic

2

tbsp.

green and red bell pepper

20

oz.

4

cups

chili powder

1

tbsp.

water

6

cups

frozen whole kernel corn

1

oz.

3

cups

cilantro

0.5

oz.

1

cups

sharp Cheddar cheese

12

oz.

3

cups
To Make Spicy Tortilla Strips:
1. Cut tortillas in half and cut halves into 1/2-in. strips. Place in bowl and drizzle with oil and seasoning blend and toss to coat well.

2. Place in an even layer on a full-size sheetpan and bake in a 425°F conventional or 375°F convection oven.  Bake for 14 minutes or until crispy, stirring half-way through baking time.

3. Remove from heat and cool. Reserve.
1. In large pan or stock pot, heat oil over medium-high heat; add beef and sauté until just browned, about 3 minutes. Remove beef from pot. Reserve.

2. Degrease pot of one half of the fat. Add onions and sauté 4 minutes. Stir in garlic and continue to cook 2 minutes.

3. Add peppers and spices and sauté 4 minutes.
4. Pour in Salsa and water and bring to a simmer, stirring often. Simmer 1 1/2-2 hours, stirring often. (Add more water if needed during cooking.)

5. Stir in corn and return to a simmer. Remove from heat and stir in cilantro and scallions.

6. Pour pot pie filling (10 lb.) into a full-size hotel pan. Or portion into 16-oz. individual casserole dishes.

7. Top with shredded Cheddar and Spicy Baked Tortilla Strips and bake in 400°F. conventional or 350°F. convection oven 15-20 minutes or until cheese is melted and mixture is bubbly.

8. Serve 1 1/2 cups (3-#8 scoops) cheese and tortilla topped pot pie filling.