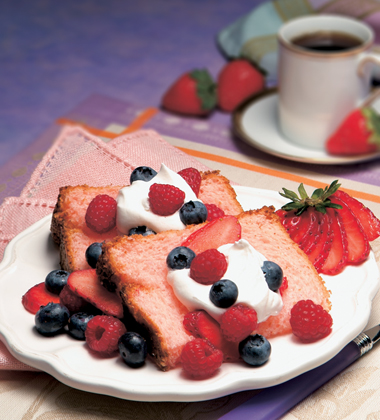 Nutrition Facts
Serving Size
1 SERVING (1 INDIVIDUAL CAKE, 1/2 CUP FRUIT)
Amount Per Serving
% Daily Value
This rich and healthy berry dessert uses prepared cake mix and V8 Splash Diet to make it full of flavor but low on fat.
Recipe Yields:
NOTE: Use your professional judgement when resizing recipes. Seasoning, cooking times, etc, may require adjustment.
estimate your profit
Enter the cost of the soup and any garnishing costs to get the cost per bowl of soup.
Enter the selling price per bowl and your profit for each bowl is calculated based on Step 1.
Enter the number of bowls you typically serve each day and how many days per week you are open (or serve this soup). Profits will be calculated using your numbers from Steps 1 and 2.
| | | |
| --- | --- | --- |
| Ingredients | Weight | Measure |
angel food cake mix

2

lb.

large muffin tins (8-10 oz) or large oven-to-table paper-lined muffin cups

24

ea.

vegetable cooking spray
frozen mixed berries (blueberries, raspberries, strawberries)

60

oz.

3

qt.

low fat whipped topping

8

oz.

3

cups
1. Pre-heat oven 350°F.
2. In a large bowl of a mixer equipped with a paddle attachment, combine cake mix and juice and mix on medium speed for 1 1/2 to 2 minutes until smooth.
3. Line muffin tins or oven-proof cups with parchment liners and lightly spray with non-stick spray. If using cups, place on a sheetpan.

4. Pour 1/2 cup batter into each prepared cup. Bake individual cakes 18 minutes or until slightly browned on top and firm to touch. Remove from heat and cool slightly before removing from cake pans or cups to cool completely to room temperature.
5. For Each Serving: Place 1 small cake on a dessert plate. Top each slice with 1/2 cup berries and 1/4 cup whipped topping
Recipe Tip
Substitution: V8 Splash® Diet Tropical Blend