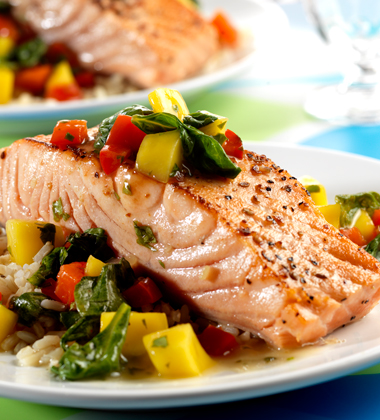 Nutrition Facts
Serving Size
1 SERVING (1 SALAMON FILLET, 1/2 CUP SAUCE)
Amount Per Serving
% Daily Value
Sautéed salmon is melded with a rich V8 V-Fusion Peach Mango sauce and enhanced with chunks of mango and spinach leaves. Finished with cilantro.
Recipe Yields:
NOTE: Use your professional judgement when resizing recipes. Seasoning, cooking times, etc, may require adjustment.
estimate your profit
Enter the cost of the soup and any garnishing costs to get the cost per bowl of soup.
Enter the selling price per bowl and your profit for each bowl is calculated based on Step 1.
Enter the number of bowls you typically serve each day and how many days per week you are open (or serve this soup). Profits will be calculated using your numbers from Steps 1 and 2.
| | | |
| --- | --- | --- |
| Ingredients | Weight | Measure |
salmon

9

lb.

24

ea.

cracked black pepper

2

tbsp.

kosher salt

2

tsp.

vegetable cooking spray
vegetable oil

2

tbsp.

vegetable oil

2

tbsp.

red bell pepper

28

oz.

5 1/4

cups

garlic

1

oz.

3

tbsp.

mango

24

oz.

4 1/8

cups

honey

3

oz.

0 1/4

cups

cracked black pepper

1 1/2

tsp.

lime juice

0 333/1000

cups

lime zest

2

tbsp.

cornstarch

3.5

oz.

0 3/4

cups

baby spinach

24

oz.

22 1/2

cups

cilantro

0.5

oz.

1

cups

brown rice

85

oz.

3

qt.

cilantro

2

oz.

24

ea.
1. Place salmon fillets, skinned-side-down in one even layer on a full sheetpan sprayed with cooking spray. Mix pepper and salt and sprinkle evenly onto tops of each fillet. Pat down and spray with cooking spray.

2. Heat oil in a large skillet over medium-high heat for 1 minute. In batches, add salmon, skinned-side-up, making sure not to over-crowd the skillet, and cook 3 minutes or until well-browned. Flip salmon fillets over and continue cooking 2-3 minutes or until salmon flakes easily when tested with a fork and internal temperature is 165°F. or higher for 15 seconds.

3. Remove from skillet, placing skinned-side down on a clean sheetpan and keep warm. Repeat process to finish remaining fillets. Pour off used fat. CCP: Hold hot 140°F or higher for service.
4. Add new oil and heat over medium-high heat; add chopped pepper to same skillet and cook, stirring often, for 2 minutes. Stir in garlic and continue to sauté 1-2 minutes, until crisp tender.
5. In a bowl mix together juice, mango, honey and pepper; in another small bowl mix lime juice and cornstarch until smooth and whisk cornstarch mixture into mango mixture until smooth.

6. Add juice-mango mixture into skillet and whisk constantly until mixture begins to thicken and boil.

7. Stir in spinach and cook until spinach is completely wilted and mixture is thickened, stirring often. Boil 1 minute. Remove from heat and stir in cilantro. CCP: Hold hot 140°F or higher for service.

8. For Each Serving: Plate 1/2 cup hot rice onto plate and top with a salmon fillet. Ladle 1/2 cup sauce with spinach and mango over top of salmon and serve immediately, garnished with cilantro sprigs.