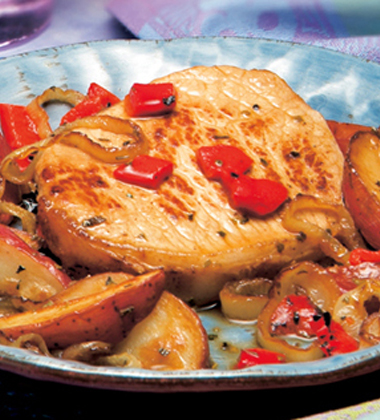 Nutrition Facts
Serving Size
1 SERVING (1 PORK CHOP, 1/2 CUP POTATOES)
Amount Per Serving
% Daily Value
The savory flavors of this dish made with Swanson® Unsalted Chicken Broth will remind you of the delicious food you get at an Italian festival.  Plus, braising the pork ensures that it's moist and tender.
Recipe Yields:
NOTE: Use your professional judgement when resizing recipes. Seasoning, cooking times, etc, may require adjustment.
estimate your profit
Enter the cost of the soup and any garnishing costs to get the cost per bowl of soup.
Enter the selling price per bowl and your profit for each bowl is calculated based on Step 1.
Enter the number of bowls you typically serve each day and how many days per week you are open (or serve this soup). Profits will be calculated using your numbers from Steps 1 and 2.
| | | |
| --- | --- | --- |
| Ingredients | Weight | Measure |
olive oil

5.75

oz.

6

tbsp.

boneless pork chop

4.5

lb.

24

ea.

red potato

11.25

lb.

24

ea.

onion

1.5

lb.

6

ea.

dried oregano leaves

0.25

oz.

2

tbsp.

roasted red bell pepper

14

oz.

3

cups
1. Heat the oil in a skillet over medium-high heat. Add the pork and cook for 10 minutes or until well browned on both sides. Remove the pork from the skillet.
2. Add the potatoes, onion and oregano to the skillet. Cook for 5 minutes or until the vegetables are browned, stirring occasionally.
3. Add the pork, broth and red pepper to the skillet and heat to a boil. Reduce the heat to low. Cover and cook for 10 minutes or until the pork is cooked through. 

CCP: Heat to 145° F for 15 seconds.
CCP: Hold for hot service at 140° F.

4. To serve: Using a 4 oz spoodle, portion 1/2 cup of potato mixture with 1 porkchop.
Recipe Tip
Serving Suggestion: Serve with green beans stir-fried with sliced garlic.