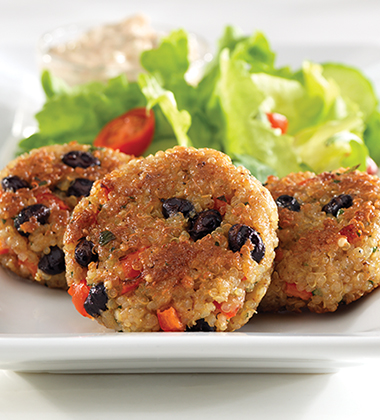 Nutrition Facts
Serving Size
2 PATTIES + ABOUT 2 TBSP (#30 SCOOP) SAUCE
Amount Per Serving
% Daily Value
These delicious quinoa patties are made with Campbell's® Signature Low Sodium Vegetarian Vegetable Culinary Foundation and combined with bread crumbs, black beans, bell pepper, eggs, cumin and fresh cilantro. Sautéed until golden brown and served with a mouth-watering sauce, your patrons will absolutely love the incredible flavor!
Recipe Yields:
NOTE: Use your professional judgement when resizing recipes. Seasoning, cooking times, etc, may require adjustment.
estimate your profit
Enter the cost of the soup and any garnishing costs to get the cost per bowl of soup.
Enter the selling price per bowl and your profit for each bowl is calculated based on Step 1.
Enter the number of bowls you typically serve each day and how many days per week you are open (or serve this soup). Profits will be calculated using your numbers from Steps 1 and 2.
| | | |
| --- | --- | --- |
| Ingredients | Weight | Measure |
lime

1

ea.

vegetable oil

0 1/2

cups

quinoa

6

oz.

1 1/2

cups

water

9

cups

bread crumbs

5.75

oz.

0 667/1000

cups

cumin

0 3/4

tsp.

low sodium black beans

33

oz.

4

cups

yellow bell pepper

5

oz.

1

cups

egg

3.5

oz.

2

ea.

cilantro

0.5

oz.

2

tbsp.

kosher salt

0 3/4

tsp.

plain nonfat Greek yogurt

13

oz.

1 3/4

cups

ground chipotle chile powder

0 1/2

tsp.
1. Grate 1 teaspoon zest and squeeze 1 tablespoon juice from the lime.
2. Heat 1/4 of the oil in a 3-quart saucepan over medium-high heat.  Add the quinoa and stir for 1 minute or until lightly browned. Combine Campbell's® Signature Low Sodium Vegetarian Vegetable Culinary Foundation and the water and heat to a boil.  Reduce the heat to medium-low.  Cover and cook for 20 minutes or until the liquid has been absorbed.  Remove the quinoa from the heat and let cool for 15 minutes.
3. Thoroughly mix the cooked quinoa, bread crumbs, cumin, beans, yellow pepper, eggs, 1 Tbsp. cilantro and salt in a large bowl.  Firmly shape the quinoa mixture into 28 patties (3/4-inch thick), using about 1/2 cup (#8 scoop) quinoa mixture each.

4. Heat about 1/3 of the oil in a skillet over medium-high heat.  Add the patties in 3 batches and cook for 8 minutes or until well browned on both sides, turning the patties over once halfway through the cooking time and adding the remaining oil to the skillet as needed. Remove the patties from the skillet.

CCP: Ensure final cook step reaches a minimun internal temperature of 165°F for one minute.

CCP- Hold hot at 140°F or higher for service.
5. Stir the yogurt, chile powder, lime zest, lime juice and remaining cilantro in a medium bowl to make a sauce.

CCP: Hold under refrigeration at 41°F or lower until served.

Portion size = 2 patties + about 2 tbsp. (#30 scoop) sauce