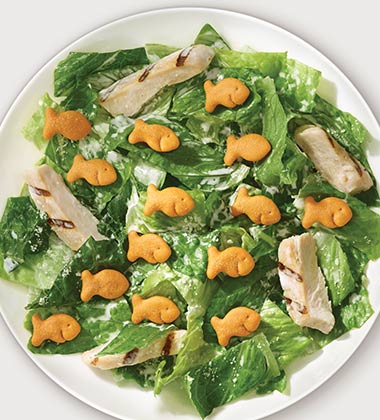 Nutrition Facts
Amount Per Serving
% Daily Value
Child Nutritional Content
mma: 2.0oz
grain: 1.0oz
totalVegetable: 1.0c
darkGreen: 1.0c
redOrange: 0.0c
legumes: 0.0c
starchy: 0.0c
other: 0.0c
additional: 0.0c
fruit: 0.0c
milk: 0.0c
A school of Cheddar Goldfish Made With Whole Grain Cheddar snack crackers and Parmesan cheese add some fun to a fresh chicken Caesar salad.
Recipe Yields:
NOTE: Use your professional judgement when resizing recipes. Seasoning, cooking times, etc, may require adjustment.
estimate your profit
Enter the cost of the soup and any garnishing costs to get the cost per bowl of soup.
Enter the selling price per bowl and your profit for each bowl is calculated based on Step 1.
Enter the number of bowls you typically serve each day and how many days per week you are open (or serve this soup). Profits will be calculated using your numbers from Steps 1 and 2.
| | | |
| --- | --- | --- |
| Ingredients | Weight | Measure |
romaine lettuce

3

gallons

reduced fat creamy Caesar dressing

1 1/2

qt.

unseasoned chicken strips, cooked, frozen

4.5

lb.

Parmesan cheese

1 1/2

cups
To assemble each salad:

1. Portion 3/4 oz (55 pieces) of Goldfish crackers into 4 fl oz cups.
2. In large mixing bowl, combine Romaine lettuce and Caesar salad dressing.
3. Measure out 2- 8 oz spoodles and place 2 cups of Romaine lettuce with the dressing onto each plate or into each serving container.
4. Top each salad with 2.5 oz sliced grilled chicken, and 1 tsp. Parmesan cheese.
5. Put on cup filled with Goldfish crackers on the side.
6. CCP: Cover and refrigerate at 41 degrees F until ready to serve.

Alternative presentation: Offer the recipe ingredients on a self service salad bar to enable students to assemble their entrees start to finish on their own.
Recipe Tip
One serving provides 1 oz equiv grains, meat/meat alternate, 1 cup vegetables (1 cup dark green)
For a complete reimbursable meal for students in grades K-5, offer this menu idea with 1/2 cup fruit and 8 oz of milk.