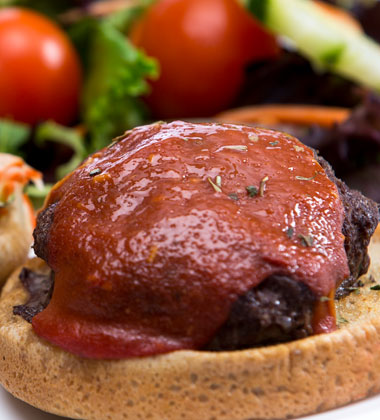 Nutrition Facts
Serving Size
1 SERVING (2 SLIDERS)
Amount Per Serving
% Daily Value
Child Nutritional Content
mma: 2.0oz
grain: 2.0oz
totalVegetable: 0.625c
darkGreen: 0.0c
redOrange: 0.5c
legumes: 0.0c
starchy: 0.0c
other: 0.125c
additional: 0.0c
fruit: 0.0c
milk: 0.0c
Meatballs, Italian spices, and Mozzarella cheese combine with Campbell's® Healthy Request® Tomato Soup and Prego® No Salt Added Pasta Sauce to turn an Italian classic into a fun appetizer or featured special on your menu.
Recipe Yields:
NOTE: Use your professional judgement when resizing recipes. Seasoning, cooking times, etc, may require adjustment.
estimate your profit
Enter the cost of the soup and any garnishing costs to get the cost per bowl of soup.
Enter the selling price per bowl and your profit for each bowl is calculated based on Step 1.
Enter the number of bowls you typically serve each day and how many days per week you are open (or serve this soup). Profits will be calculated using your numbers from Steps 1 and 2.
| | | |
| --- | --- | --- |
| Ingredients | Weight | Measure |
frozen cooked beef meatballs,1/2 oz ea

100

oz.

whole grain roll

100

ea.

canola oil

2

tbsp.

carrot

41

oz.

2

qt.

zucchini

2

lb.

7

cups

minced onion

2

tbsp.

Parmesan cheese

3.5

oz.

1

cups

part skim mozzarella cheese

37.5

oz.

9 3/4

cups

Italian seasoning

2

tbsp.
1. Place meatballs on parchment lined sheet pans. Heat until internal temperature reaches 165 °F:
Conventional Oven: 375 °F for approximately11-13 minutes
Convection Oven: 350 °F for approximately8-10 minutes.

CCP: Cover and hold at 140 °F or higher until sandwiches are assembled.
2. Slice dinner rolls in half to make mini hamburger rolls.• Put the bottom half of each sliced roll on parchment lined sheet pans.• Set the top halves of the rolls aside.
3. Heat oil in a skillet over medium heat. Add the carrots, zucchini, and onions. Sauté until vegetables are tender.

CCP: Hold at 140 °F or higher until sandwiches are assembled.
4. Whisk the condensed soup, pizza sauce, and parmesan cheese together until well combined. Cook over medium heat until the cheese has melted, stirring frequently with the whisk. Remove from heat and set aside.
CCP: Hold at 140 °F or higher.

To Assemble:•
1. Use a #30 scoop to portion 2 Tbsp of vegetables over each roll half.  2. Add one meatball top of the vegetables on each roll half.
3. Use a #24 scoop to add 2 3/4 Tbsp of sauce over the meatball on each portion.
4. Add 3/8 oz (1 ½ Tbsp) shredded cheese over the vegetables on each portion.
5. Lightly sprinkle the Italian seasoning over the cheese on each portion.
6. Place in a 400°F oven until cheese has melted and rolls are lightly toasted (approximately 5 minutes).
7. To serve, immediately add top bun to 2 sliders on plate.
Recipe Tip
Optional: Secure each slider with a food pick to make easier to serve and eat.