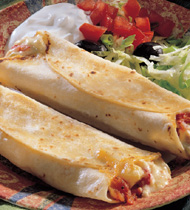 Nutrition Facts
Serving Size
1 EACH (1 BURRITO)
Amount Per Serving
% Daily Value
Try our Smoky Chicken Crispeeto Bureeto made with Campbell's® Condensed Cream of Chicken Soup.  This dish is perfectly spiced with green chiles, cumin, garlic, and black pepper to make all the ingredients pop.  Finished off with smoked cheddar cheese to bring out that smoky chicken flavor that your patrons will love.
Recipe Yields:
NOTE: Use your professional judgement when resizing recipes. Seasoning, cooking times, etc, may require adjustment.
estimate your profit
Enter the cost of the soup and any garnishing costs to get the cost per bowl of soup.
Enter the selling price per bowl and your profit for each bowl is calculated based on Step 1.
Enter the number of bowls you typically serve each day and how many days per week you are open (or serve this soup). Profits will be calculated using your numbers from Steps 1 and 2.
| | | |
| --- | --- | --- |
| Ingredients | Weight | Measure |
margarine

8

oz.

1

cups

boneless, skinless chicken breast tenders

10

lb.

sour cream

2.5

lb.

9 1/4

cups

cooked potato

5

lb.

3 1/2

qt.

roasted red bell pepper

1

lb.

green chiles

1.5

lb.

1

qt.

cumin

0 1/4

cups

garlic powder

0 1/4

cups

black pepper

1

tbsp.

flour tortilla

100

ea.

smoked Cheddar cheese

6

lb.

1 1/2

gallons

margarine

1

lb.

2

cups
1. In large saucepot in hot margarine, cook chicken. CCP: Cook until internal temperature is 165º F. or higher for 15 seconds and chicken is no longer pink.
2. Add soup, sour cream, potatoes, red peppers, chilies, cumin, garlic powder and pepper. CCP: Hold at 140º F. or higher for 15 seconds, stirring often. Do not boil.
3. On each tortilla portion chicken mixture using No. 12 scoop (1/3 cup). Sprinkle with 1/4 cup (2 ounces) cheese. Roll tortilla. Place seam-side down on baking sheet. Place burritos about 2 inches apart. Brush with melted margarine. Bake at 375°F. CCP: Bake until internal temperature is 165º F. or higher for 15 seconds and burritos are crisp, about 15 minutes.

4. CCP: Hold at 140º F. or higher. Portion 1 burrito per serving.
Recipe Tip
Margarine may be substituted for butter.
Try using Monterey Jack cheese in place of Cheddar.