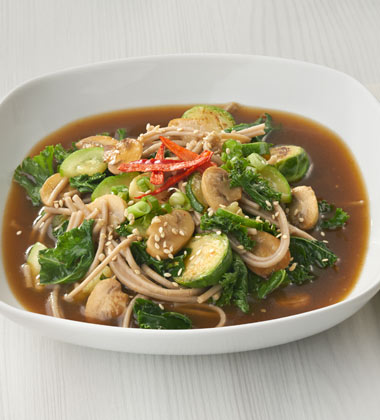 Nutrition Facts
Serving Size
1 SERVING (2 CUPS PLUS GARNISHES)
Amount Per Serving
% Daily Value
Soba noodles, kale, and mushrooms in a rich bold flavored vegetarian broth Made with Campbell's® Signature Low Sodium Vegetarian Vegetable Premium Culinary Foundation.
 
Recipe Yields:
NOTE: Use your professional judgement when resizing recipes. Seasoning, cooking times, etc, may require adjustment.
estimate your profit
Enter the cost of the soup and any garnishing costs to get the cost per bowl of soup.
Enter the selling price per bowl and your profit for each bowl is calculated based on Step 1.
Enter the number of bowls you typically serve each day and how many days per week you are open (or serve this soup). Profits will be calculated using your numbers from Steps 1 and 2.
| | | |
| --- | --- | --- |
| Ingredients | Weight | Measure |
cooked Japanese soba (buckwheat) noodles

24

oz.

6

cups

olive oil

0 1/2

cups

ginger root

0.75

oz.

0 1/2

cups

garlic

4

oz.

1

cups

Brussels sprouts

32

oz.

10 1/2

cups

mushrooms

20

oz.

8

cups

kale

23

oz.

10

cups

zucchini

36

oz.

9

cups

reduced sodium soy sauce

0 1/2

cups

rice wine vinegar

0 1/2

cups

sugar

3

tbsp.

sriracha hot chili sauce

3

tbsp.

Chinese 5 spice powder

3

tsp.

Aji-Mirin

0 1/2

cups

water

24

cups

green onion

1.75

oz.

0 1/2

cups

sesame seeds

2.5

oz.

0 1/2

cups

Thai chili pepper

9.5

oz.

6

ea.

Thai basil

0.5

oz.

0 1/2

cups
1.  Prepare soba noodles according to package directions. Rinse noodles under cold water. Drain, cover and refrigerate until needed.
2.  Heat a medium sized pot on low. Add olive oil, ginger, and garlic. Cook for 2 minutes.
3.  Add brussel sprouts, mushrooms, kale and zucchini. Stir while cooking for 4 minutes.
4.  Add soy sauce, rice wine vinegar, sugar, sriracha, Chinese 5 spice powder, and Aji-Miran. Stir for 30 seconds.
5.  Add water and Campbell's Signature Low Sodium Vegetarian Vegetable Culinary Foundation and bring to a simmer.

6. Add the noodles to the broth and stir.

CCP: Ensure final cook step reaches a minimun internal temperature of 165°F for one minute.

CCP: Hold for hot service at 140°F or higher.


 
7.  To Serve: Portion 2 cups (TWO 8 oz ladle) of the broth/noodle/vegetable mixture into a 20 oz bowl.  Garnish with 1/2 tsp each green onions, sesame seeds, Thai chili pepper, and Thai basil. Serve immediately.
Recipe Tip
You may decide to build the bowl from a fresh station by following the build in the recipe. To make the bowl grab and go available, chill the broth and assemble ingredients in disposable container.


 
You can add protien, such as shrimp, pork or beef.  As a protein alternative, try adding tofu.